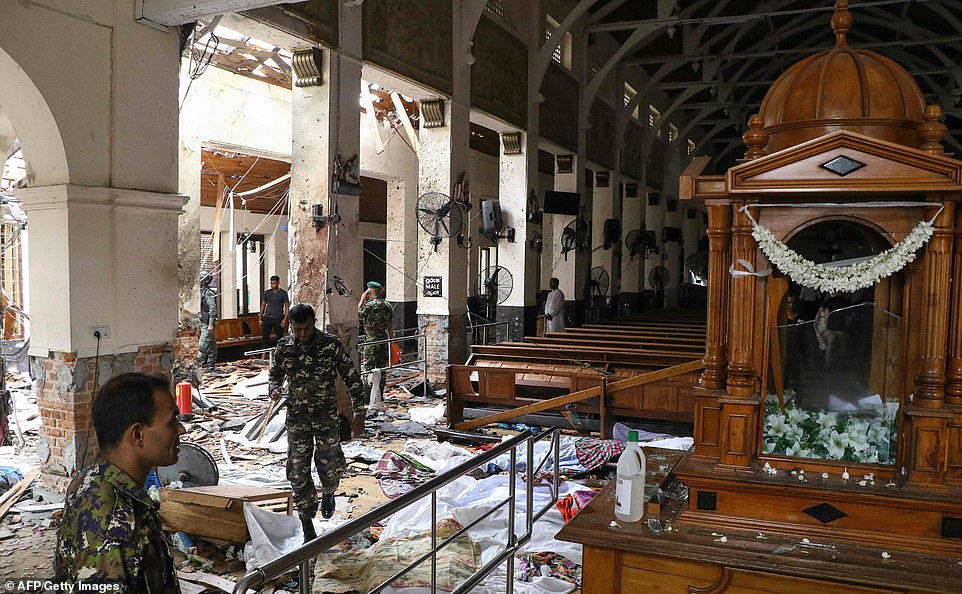 A group of Moslem suicide bombers just attacked a number of churches and hotels in Sri Lanka resulting in over 200 deaths.
At least 207 people have died after suspected suicide bombers blew up churches and five-star hotels in an Easter Sunday terror attack in Sri Lanka.

The eight blasts today ripped through landmarks around Colombo and on Sri Lanka's east coast, targeting Christians, hotel guests and foreign tourists, leaving at least 450 people wounded, and killing three British citizens, and two UK-US dual citizens.

Six bombs went off in quick succession before another two blasts two hours later in Sri Lanka's worst violence since the end of its decades-long civil war in 2009.

As details of the horror emerged today, Sri Lankan TV chef Shantha Mayadunne and her London-based daughter Nisanga were among the first victims named.

Meanwhile a manager at the Cinnamon Grand hotel in Colombo said the attacker had set off the horrific explosion in a packed restaurant at 8.30am, after waiting in a queue for a breakfast buffet.

At least 35 foreigners are feared to have been killed in the attacks – including five Britons, of whom two were joint US-UK citizens.

Further fatalities are said to include three Indians, two Turks, one Portuguese citizen and an unknown number of Dutch and Chinese nationals.

Eight suspects have been arrested, as it emerged the country's police chief had warned of an Islamic extremist plot to target 'prominent churches' just 10 days earlier, but no group has yet claimed responsibility for the attack.
Not even the Buddhist-majority country of Sri Lanka is safe from Islamic terrorism. Everywhere there are Moslems they are just randomly blowing people up. At least when Moslems attack targets in the West, they can say that it is because the United States and NATO have been attacking their lands to benefit Jews. And that is in many ways a fair point. But attacking churches and hotels in Sri Lanka is not going to generate any sympathy for their cause. Even if Westerners were staying at some of the hotels they attacked, Sri Lanka did not invade or attack Moslem countries and they did not deserve this.
It's why nobody gave a fuck when Brenton Tarrant went into those New Zealand mosques and killed all those Moslems. They just got a taste of their own medicine.
Sri Lanka should start rounding up these Moslems and put them in camps like the Chinese have been doing. It's the only way to deal with this "peaceful religion."