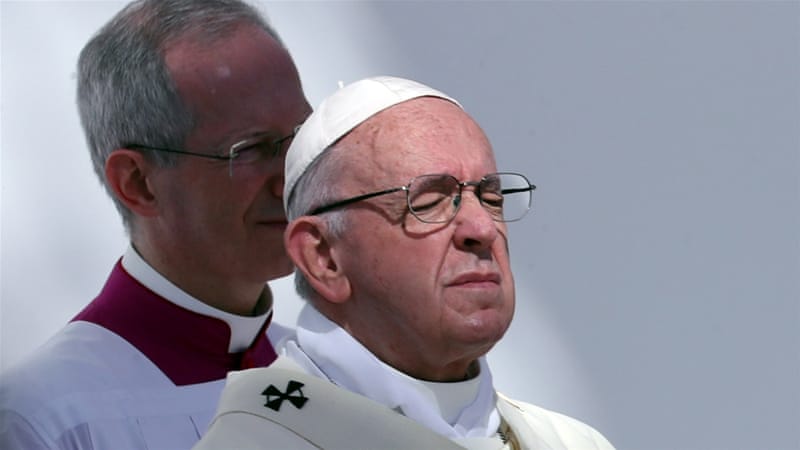 The Catholic Church for some time now has been a cult of homosexuals. They operate openly under the guise of Christianity. A new book estimates that 80 percent of the Vatican's clergy are faggots who regularly have sex with male prostitutes. This is probably a fair assessment of the situation.
A new book, whose release is timed to coincide with the start of Pope Francis's major summit on sex abuse on February 21, contains sweeping, although unverified, claims that 80 percent of the Vatican clergy are gay.

In the Closet of the Vatican: Power, Homosexuality, Hypocrisy by French journalist Frédéric Martel will be released in 8 languages in 20 countries and is the product of 4 years of research and interviews with over 1,500 individuals in 30 countries, including 41 cardinals, 52 bishops, and 45 apostolic nuncios.

Ahead of its release, Crux reviewed portions of the work, which, among its most scandalous claims, alleges Colombian Cardinal Alfonso López Trujillo, Pope John Paul II's point man on marriage and family, had a "double life" with male prostitutes and affairs, alleges the two deceased "dubia" cardinals were gay, and that "this best kept secret of the Vatican is no secret to Pope Francis," and it is the motivation for the pontiff regularly speaking out on hypocrisy.
Interestingly enough, the Vatican just defrocked a high profile Cardinal for sexually abusing an alter boy many years ago.
NPR:
The Vatican has defrocked former cardinal Theodore McCarrick, it said Saturday, making him the highest-ranking church official to date to be expelled from the priesthood for sex abuse.

A church tribunal found McCarrick guilty of "solicitation in the Sacrament of Confession and sins against the Sixth Commandment with minors and with adults, with the aggravating factor of the abuse of power," the Vatican said. Pope Francis has approved the ruling and there is no possibility of appeal, the statement said.

McCarrick, 88, resigned his post as cardinal last year after an investigation found evidence he had molested a minor altar boy almost a half-century ago. Another man told The New York Times that he was in his 20s when McCarrick abused him in the 1980s. McCarrick was a bishop in New Jersey at the time. The Times also found that two New Jersey dioceses had secretly paid settlements to two men who had accused McCarrick of abuse.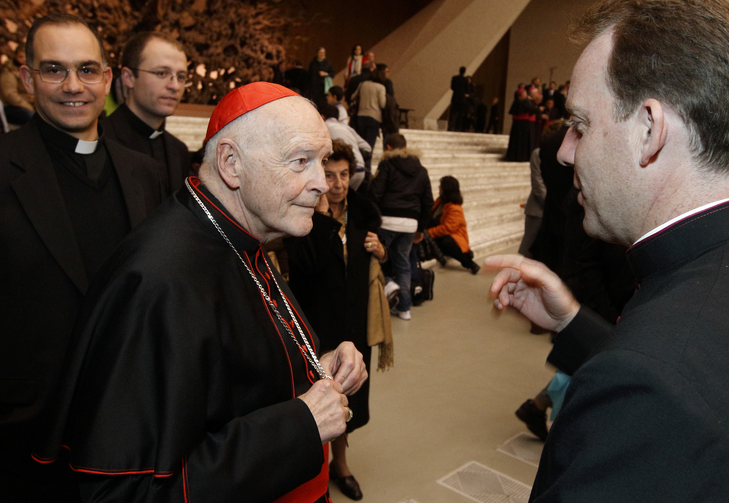 They have a real problem on their hands. The Catholic Church is supposed to be a Christian organization but most of the people who want to enter the clergy these days are homosexuals. These faggots do this in order to have access to young boys. And since clergy aren't allowed to marry, this way of life is going to primarily attract homosexuals.
Christianity teaches people that homosexuality is an abomination and a sin which conflicts with the fact that you have a bunch of cocksuckers as clergy members. So how do you deal with an organization that consists primarily of homosexual men yet teaches a view that is against homosexuality? It's a constant fine line that we see the Vatican's leadership trying to contend with.
The only way out of this is to allow members of clergy to marry. If they don't do this and they keep defrocking faggots, there will be no clergy left because most clergy are faggots.
But honestly, it would probably be best if the Catholic Church dies off. It's been totally corrupted by evil and no longer advances anything remotely related to Christianity. It's led by some crazy Pope who pushes social justice causes and the vast majority of clergy are addicted to sucking dick and masturbating inside another man's asshole.