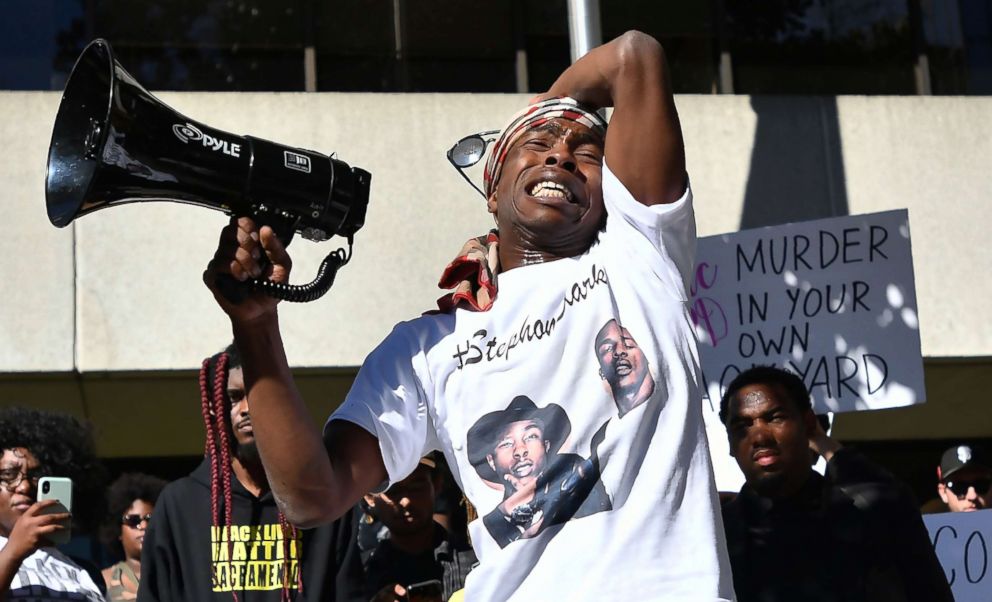 There's a situation in Sacramento brewing over a nigger named Stephon Clark who was killed by cops. Apparently he was looting cars and they shot him in the back as he was running away from them. There have been protests over this dead nigger for the past several days.
For the fourth consecutive evening, hundreds of protesters marched through downtown Sacramento, Calif., on Friday, calling for charges against two police officers linked to the March 18 fatal shooting of unarmed 22-year-old Stephon Clark.

But despite sporadic moments of tension – including attempts to block freeway exits and shut down a nightclub – the protests yielded no arrests or property damage.

Autopsy results from pathologist Dr. Bennet Omalu revealed Friday morning that Clark was shot from behind seven times, contradicting the department's narrative that Clark was approaching the officers when he was killed.

The autopsy was released a day after an emotional funeral service at which the Rev. Al Sharpton, founder of the National Action Network, delivered the eulogy.

Sharpton praised demonstrators for their restraint and urged them to follow the lead of the Rev. Martin Luther King Jr. and his advocacy of nonviolent protest. Wednesday will be the 50th anniversary of King's assassination by gunfire.
So an autopsy apparently shows that he was shot in the back several times.
This means it is possible the cops used obsessive force, but whatever. The common sense position would be to first get all the facts before passing judgment on what happened.
I certainly don't think what we know so far entitles them to disrupt a City Council meeting. Look at how the nigger's brother behaved a few days ago. Just what sort of fucked up nigger behavior is this?
I also don't think it entitles them to try to raid and smash up a hotel.
The protests have been building and are getting more attention. This means things could start to get ugly.
But at this point, I hope the niggers burn down the entire city. It'd be fitting considering that Sacramento is the capital city of California. They wanted diversity and cultural enrichment so I'd like them to experience how great it is first hand.
One of the main things that caused me to publicly go full 1488 was the insane behavior of these nigger hordes whenever a single nigger got killed by a cop. In nearly every case, the single dead nigger was at fault for getting killed yet the nigger hordes couldn't process any facts. They would just lash out in violence disregarding the specifics of the situation. This became a recurring phenomenon starting with the Trayvon Martin situation in 2012 and escalated with other cases like Michael Brown etc..
I think all of us inherently understand that most niggers are stupid creatures. Obviously there are exceptions and this is why I treat everyone I interact with in my day to day life with respect if they show me respect. I certainly don't go up to a nigger and yell nigger over and over again to them for no reason. That would be insane.
But the crazy behavior of Negroes in general especially in groups is unacceptable and incompatible with White European society. These chimpouts prove it. It's impossible to argue otherwise and the only argument we are given is that it is mean to point out these obvious facts.
I'm tired of being considered a societal outcast for stating obvious facts about shit. It's utterly retarded. These problems will never be solved until we admit the obvious realities about racial differences.