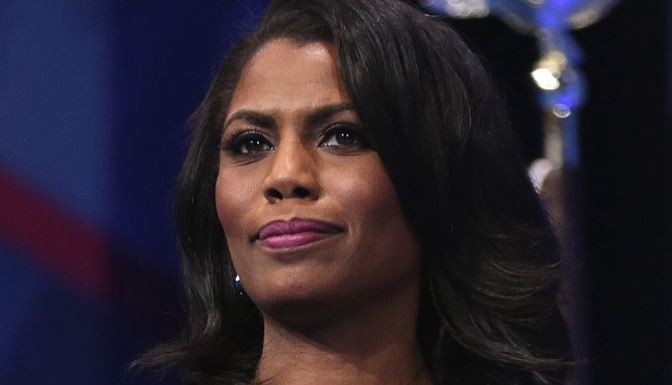 So the crazy Negress Omarosa who served as a token Negress White House staffer is claiming that Donald Trump is racist and that a tape of Trump saying "nigger" is real. She also is said to have secretly taped private conversations with Trump.
Donald Trump is a "racist" who has used the "N-word" repeatedly, Omarosa Manigault Newman, once the most prominent African American in the White House, claims in a searing memoir.

The future US president was caught on mic uttering the taboo racial slur "multiple times" during the making of his reality TV show The Apprentice and there is a tape to prove it, according to Manigault Newman, citing three unnamed sources.

Trump has been haunted from around the time of his election in 2016 by allegations that outtakes from the reality TV show exist in which he is heard saying the N-word and using other offensive language.

In her book, Unhinged, a copy of which was obtained by the Guardian ahead of its publication next week, the former Apprentice participant insists that the reports are true, although she does not say she heard him use the word herself.

She also claims that she personally witnessed Trump use racial epithets about the White House counselor Kellyanne Conway's husband George Conway, who is half Filipino. "Would you look at this George Conway article?" she quotes the president as saying. "F**ing FLIP! Disloyal! Fucking Goo-goo."

Both flip and goo-goo are terms of racial abuse for Filipinos.
Seems like this crazy bitch is only trying to sell copies of her book. She was kicked out of the White House last year and it looks like she's trying to cash in on the fiasco. Who the hell knows if anything she is saying is true. And some of what she is saying she has no direct knowledge of and cites unnamed sources.
But regarding this so-called Trump "nigger" tape. I'm not going to say that one doesn't exist. There's the possibility that such a tape does exist, but if it does exist, it is perplexing why it wasn't released before the 2016 election. That would have been the optimal time to drop the tape. Instead, the worst thing that was released was the infamous "grab em by the pussy" tape.
If there is a tape of Trump saying "nigger" than that will only make me want to support his 2020 campaign that much more. All of this nonsense surrounding political correctness needs to die. It's nothing but a bunch of Jew gibberish to prevent criticism of them and their non-White pets.