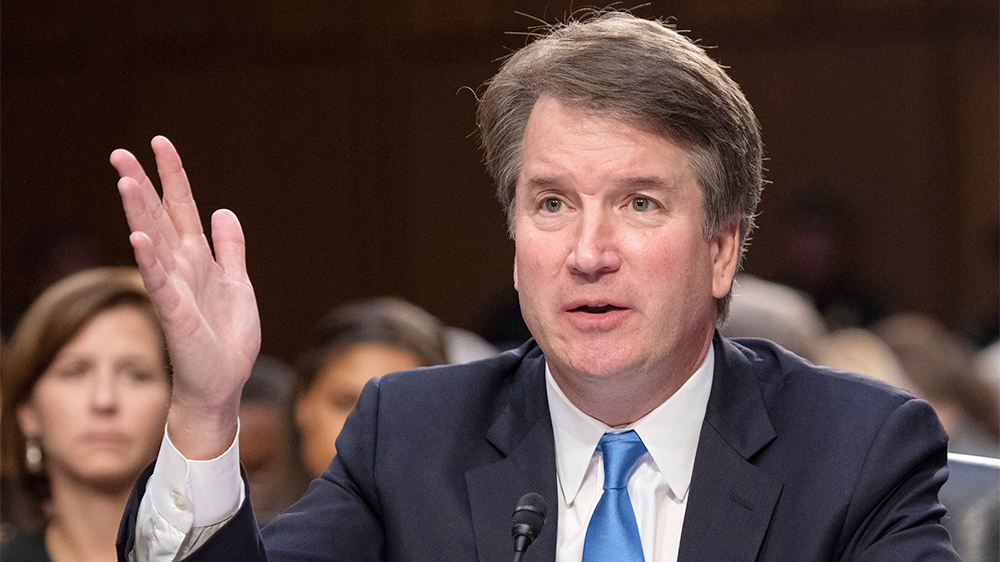 The New York Times a disreputable newspaper controlled by Jews is pushing another retarded #MeToo allegation against Brett Kavanaugh.
One of Brett Kavanaugh's male classmates at Yale has alleged he saw friends of the Supreme Court Justice push his penis into the hand of a female student at a drunken party in the 1980s.

A New York Times article details an account by classmate Max Stier who says he saw Kavanaugh, who was a freshman, at a party with his pants down.

Friends allegedly pushed his penis in to a female student's hand at the dorm party. Stier told senators and the FBI about this, but the bureau did not investigate, according to the NYT.
Yeah, so Kavanaugh was at a party and a friend allegedly grabbed his dick and put it into the hand of a female student during a drunken party. And this allegedly took place back in the 1980s which was literally over 30 years ago.
Even if this is true, who the fuck cares? How is this news? And how was anybody harmed by a friend of his allegedly putting his penis into the hand of a female as a joke? Besides, it isn't Kavanaugh's fault that somebody grabbed his dick and did this.
This is just stupid.
I agree with Donald Trump's take. Kavanaugh should absolutely start suing the media for this obvious bullshit.
Now the Radical Left Democrats and their Partner, the LameStream Media, are after Brett Kavanaugh again, talking loudly of their favorite word, impeachment. He is an innocent man who has been treated HORRIBLY. Such lies about him. They want to scare him into turning Liberal!

— Donald J. Trump (@realDonaldTrump) September 15, 2019
Brett Kavanaugh should start suing people for libel, or the Justice Department should come to his rescue. The lies being told about him are unbelievable. False Accusations without recrimination. When does it stop? They are trying to influence his opinions. Can't let that happen!

— Donald J. Trump (@realDonaldTrump) September 15, 2019
I think what is happening is that they know the Jew Ruth Bader Ginsburg is close to death so they're trying to stir up some retarded nonsense to either get Kavanaugh removed from the bench or to influence his court opinions.
But this is like the ultimate hail mary of all hail maries imaginable. It isn't going to work. People are tired of all this #MeToo fuckery.