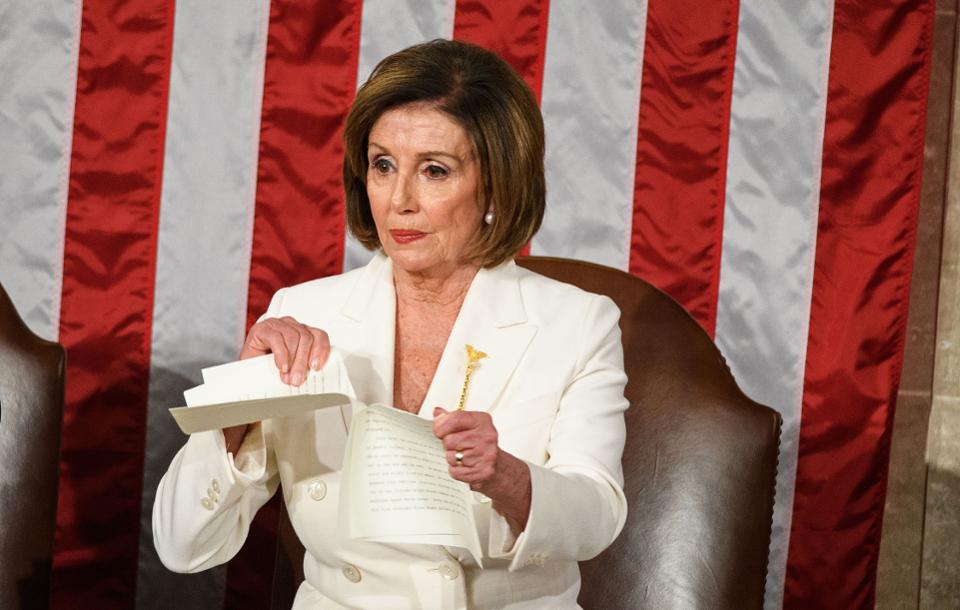 After Nancy Pelosi ripped up a copy of Donald Trump's State of the Union speech on live worldwide television, numerous memes have been created from the incident. Trump posted one of these memes and Pelosi has been actively trying to get it banned off of social media ever since.
— Donald J. Trump (@realDonaldTrump) February 6, 2020
Facebook and Twitter have refused to take down a video posted by President Donald Trump that was edited to make it appear that House Speaker Nancy Pelosi ripped up his speech when the president was saluting a Tuskegee airman during the State of the Union rather than at the end of his address.

Pelosi's office had demanded the video, titled "Powerful American stories ripped to shreds by Nancy Pelosi," be removed from both platforms. Trump tweeted the video Thursday evening to his more than 72 million followers.

The spat became public Friday when Pelosi's deputy chief of staff Drew Hammill tweeted: "The latest fake video of Speaker Pelosi is deliberately designed to mislead and lie to the American people, and every day that these platforms refuse to take it down is another reminder that they care more about their shareholders' interests than the public's interests."

"The American people know that the president has no qualms about lying to them – but it is a shame to see Twitter and Facebook, sources of news for millions, do the same," he continued.
The fact that Pelosi is trying to get this video banned is insane. She did this once before when a slowed down video of her was posted making her appear as if she was drunk. There was an enormous effort by her to try and get that video removed from the Internet.
This crazy woman literally thinks that she as a public figure can demand that posts mocking her and ridiculing her be censored. This goes entirely against the premise of free political speech which is protected under the First Amendment of the Constitution.
Facebook and Twitter have already banned and censored countless people off of their sites and even they believe that Pelosi's demands are a step too far. That alone should tell you just how nuts her censorship demands are.