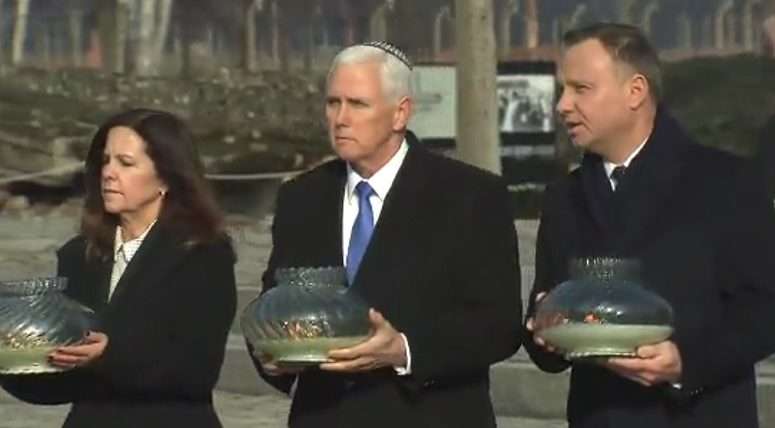 Vice President Mike Pence is over in Poland telling the world that he really likes sucking Jewish dick. In fact all he has done on this trip is suck Jewish dick. He toured Auschwitz and then accused Iran of engaging in "Nazi-like anti-Semitism."
U.S. Vice President Mike Pence accused Iran of Nazi-like anti-Semitism on Friday, maintaining his harsh rhetoric against Tehran just a day he attacked European powers for trying to undermine U.S. sanctions on the Islamic Republic.

After visiting the Auschwitz concentration camp in Poland, Pence said the Nazi death camp had made him more determined to confront Tehran, saying it was "breathing out murderous threats, with the same vile anti-Semitic hatred that animated the Nazis in Europe."

Iran's ancient Jewish community has slumped to an estimated 10,000 to 20,000 from 85,000 at the time of the 1979 Islamic Revolution, but is believed to be the biggest in the Middle East outside Israel.

Pence, who said he was deeply moved by his Auschwitz visit, cited Iran's stated desire to destroy Israel as justification for singling out the country, rather than focusing on anti-Semitism across the Middle East.

Iranian Brigadier General Hossein Salami, deputy head of the elite Islamic Revolutionary Guard Corps, said in January Iran's strategy was to wipe "the Zionist regime" (Israel) off the political map, Iran's state TV reported.
If the Iranians were really so horrible, why is it that there are still Jews who live there? Would they not be afraid of being slaughtered? Point blank, Iran is simply tired of the Israelis fucking up the Middle East with their Zionist chicanery. They do not appear to want to gas Jews in shower room gas chambers like Adolf Hitler allegedly did.
But maybe if America didn't have so many Christian-Zionists who like sucking Jewish dick, the Iranians would have been able to take care of Israel a long time ago. These Jews are not our friends and it is insane that America has leaders who actively interfere with other countries who want to deal with the Jewish problem head on.