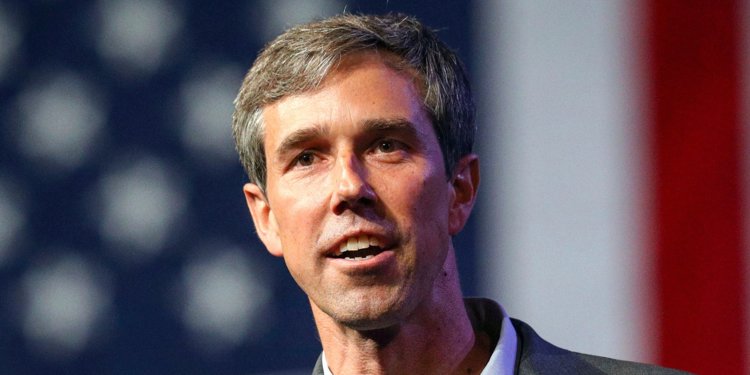 Beto O'Rourke has taken the open borders agenda to another level. He's not just opposing Donald Trump's agenda to build a border wall, he's advocating knocking down the existing border barriers.
Democrat Beto O'Rourke says he wants to knock down the existing border barriers on the southern border

MSNBC's Chris Hayes: "If you could, would you take the wall down now? Knock it down?"

O'Rourke: "Yes, absolutely. I would take the wall down." pic.twitter.com/0jYSc1kKh8

— Ryan Saavedra (@RealSaavedra) February 15, 2019
Former Texas Democratic Rep. Beto O'Rourke said Thursday that he would "absolutely" support tearing down existing barriers along the southern border with Mexico, in a full-throated embrace of open-borders rhetoric that has left conservatives wondering where other potential 2020 Democratic White House hopefuls stand on the issue.

O'Rourke's comments came as the House and Senate passed a compromise spending billthat would partially fund President Trump's proposed border wall, to the tune of $1.4 billion. Trump, who had been pressing for billions more, has vowed to declare a national state of emergency to fund the remainder of the project.

Amid the congressional debate, Texas GOP Rep. Dan Crenshaw wrote on Twitter earlier Thursday that he wanted O'Rourke to answer a simple question: "If you could snap your fingers and make El Paso's border wall disappear, would you?" He cited Department of Homeland Security (DHS) figures suggesting that illegal border crossings dropped sharply in El Paso following the construction of a wall there.

MSNBC host Chris Hayes posed a version of that question to O'Rourke on-air: "Would you, if you could, would you take the wall down here — knock it down?"

"Yes, absolutely," answered O'Rourke, who is widely thought to be a potential candidate in 2020 but has not formally announced his intention to run. "I'd take the wall down."
This man is obviously a fucking nutcase. El Paso borders Juarez which is one of the most violent cities in Mexico. The wall has helped keep El Paso safe because it prevents violent gangs and murderers from crossing the border. Yet somehow he thinks that El Paso is a relatively safe city because it is a city with immigrants and some abstract bullshit about values. This is someone who does not live within the confines of reality.
Even though Beto hasn't officially announced that he's going to run for the presidency, it is looking more and more likely that he is. The fact that he held that goofy rally the other day proves it. But what's most fascinating about his comments is that it reveals how the Democrat nomination process is going to be about who can out-Commie one another. Since Beto said he's going to tear down the wall, it is safe to assume that it is going to force others to adopt similar messaging.