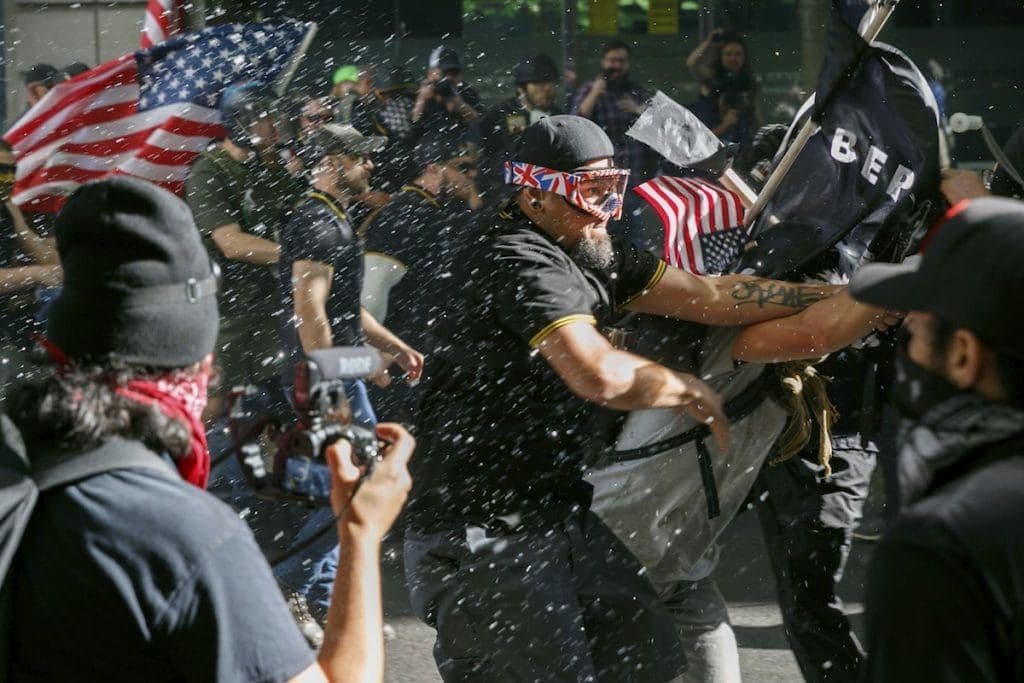 There were major clashes between anti-fascists and various patriot/right-leaning groups in Portland, Oregon over the weekend. Patriot and right-leaning groups like The Proud Boys, Patriot Prayer and others held a political rally and they were attacked by violent anti-fascists.
The media has tried to claim that these weren't all that violent. Well, I would beg to differ based on some of the pictures and video that are circulating around the Internet.
Andy Ngo the gay Asian reporter who got attacked by anti-fascists in Portland a few weeks back, documented much of the insanity that took place on his Twitter feed.
I was beaten on the head & robbed on 29 June. Antifa then continued to hurl "milkshakes" at my bleeding face. I was hospitalized with a brain hemorrhage. There still hasn't been a single arrest by @PortlandPolice. Help me seek justice; join my legal fund: https://t.co/QtCt7A6zJp pic.twitter.com/sis8pFo3lf

— Andy Ngo (@MrAndyNgo) August 10, 2019
Here's some of the madness that he documented.
Middle-age man was maced and beaten by an antifa mob. He was knocked unconscious to the ground. His partner or spouse was trying to protect him as mob still surrounded them. No police. #PortlandProtests pic.twitter.com/eAhrMSEKU1

— Andy Ngo (@MrAndyNgo) August 17, 2019
The antifa mob finds and chases down a man (in the blue hat). They had moments earlier sprayed him in the face. He attempted to walk away but they follow him. pic.twitter.com/EMJdTjbLny

— Andy Ngo (@MrAndyNgo) August 17, 2019
More anarchy and chaos in Portland by antifa. pic.twitter.com/WHr8VQWzhP

— Andy Ngo (@MrAndyNgo) August 17, 2019
No police in sight as antifa mob descends on men. A fight involving weapons breaks out. Video courtesy of @TPostMillennial. #PortlandProtests pic.twitter.com/ddbHB7gwCx

— Andy Ngo (@MrAndyNgo) August 17, 2019
Video recorded yesterday shows the concrete slabs brought by some masked rioters to throw at the buses stuck on the street. pic.twitter.com/3RgSVb06ip #PortlandProtest

— Andy Ngo (@MrAndyNgo) August 19, 2019
Saturdays in Portland. https://t.co/Ah3SLElkS6 pic.twitter.com/3ducxCcMT8

— Anna Slatz (@YesThatAnna) August 19, 2019
🚨 DISGUSTING 🚨 Antifa protestors harass & taunt badly injured older conservative couple who they earlier assaulted.

Saying "you deserved it" and laughing at them, a guy in a dog fetish costume was calling them pedophiles.

I called the police to escort them out to safety. pic.twitter.com/TczjyFNRkh

— Elijah Schaffer S.O. (@ElijahSchaffer) August 18, 2019
Antifa attacks people on a bus. They try to pull them out and hit them with a hammer. #PortlandProtests pic.twitter.com/JSkCE1Vrcy

— Andy Ngo (@MrAndyNgo) August 17, 2019
Of course there are literally hundreds of clips you can find on YouTube and Twitter documenting the insanity that took place.
Even crazier is the fact that Joey Gibson the leader of Patriot Prayer was actually arrested prior to their planned march for some inexplicable reason. Not sure how that can be considered lawful but since the rule of law no longer exists in America, such a thing is not surprising. Pre-crime is now a thing in this so-called free and democratic country.
The orange man said he was considering naming anti-fascist groups as terror organizations.
Major consideration is being given to naming ANTIFA an "ORGANIZATION OF TERROR." Portland is being watched very closely. Hopefully the Mayor will be able to properly do his job!

— Donald J. Trump (@realDonaldTrump) August 17, 2019
But why does one need to "consider" such a thing? They are obviously domestic terrorist operations whose purpose is to prevent people from freely assembling through violent acts. How much more evidence does one need to see that this is what they are? This weekend is just one of many examples.
The problem is that these anti-fascist groups are working in conjunction with police and the feds. They're never held accountable for anything which is why they're allowed to run amok like this.
Even though I have many political disagreements with the right-leaning groups who are involved in these marches, they are helping reveal the true face of the political left who are resorting to political violence to shut down free speech.
Unfortunately, I think we'll see much more of this moving forward unless the orange man finally steps up and does something substantive about these anti-fascists.