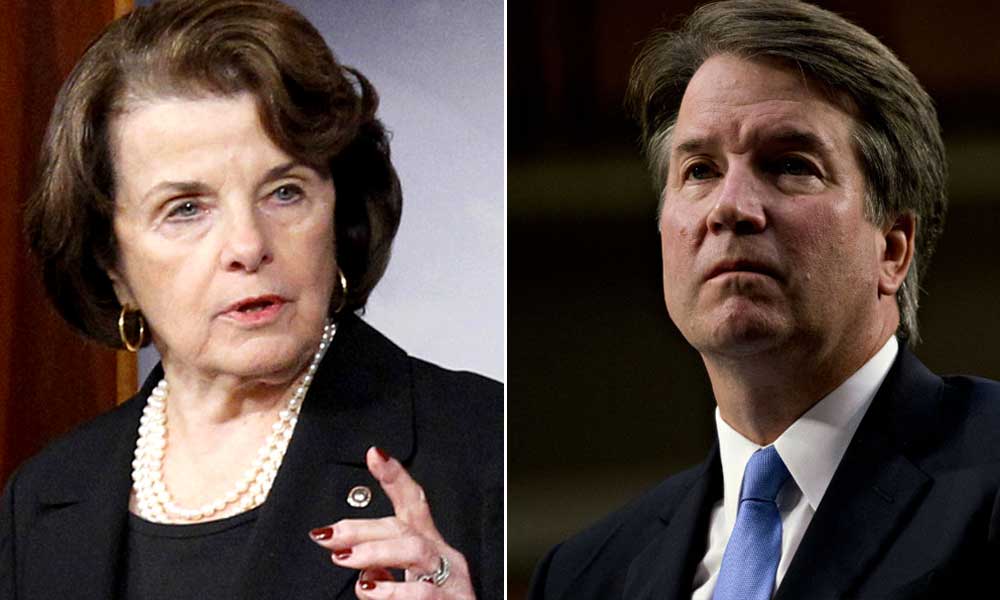 So the evil kike Dianne Feinstein has come out with an anonymous allegation claiming that Supreme Court nominee Brett Kavanaugh sexually harassed some girl when he was in high school. She's apparently been sitting on this claim for several months, waiting to release it right before voting begins on his nomination.
Democrats' desperate drive to derail the Brett Kavanaugh nomination just took a despicable new turn with a last-minute push to exploit an anonymous allegation that Sen. Dianne Feinstein's been sitting on for months.

With Kavanaugh poised to win confirmation with up to 55 votes, Judiciary Committee Dems late Wednesday plainly held a final does-anyone-have-anything? session. DiFi mentioned a confidential letter she'd received over the summer — and by the next day the partisans had made the core facts public.

In the letter, originally sent to Rep. Anna Eshoo (D-Calif.), a woman allegedly claims she was the victim of some Kavanaugh "sexual misconduct" … back in high school.

As Feinstein explains, "That individual strongly requested confidentiality, declined to come forward or press the matter further, and I have honored that decision."
I guess Feinstein was aiming for another Anita Hill type of situation.
Back in the early 90s, Hill claimed that current Supreme Court Justice Clarence Thomas sexually harassed her. There was also some nonsense about Thomas allegedly finding pubic hair on a coke can. It was some of the most absurd political theater imaginable.
Unfortunately for Feinstein, this accuser is not willing to come forward publicly so it doesn't look as if they'll be able get a repeat of that. It is a sad political stunt that reeks of desperation.
Kavanaugh is going to be confirmed. The more games the Democrats play, the dumber they look. Unfortunately, we'll probably see more delay tactics from them as we get closer to the actual votes.