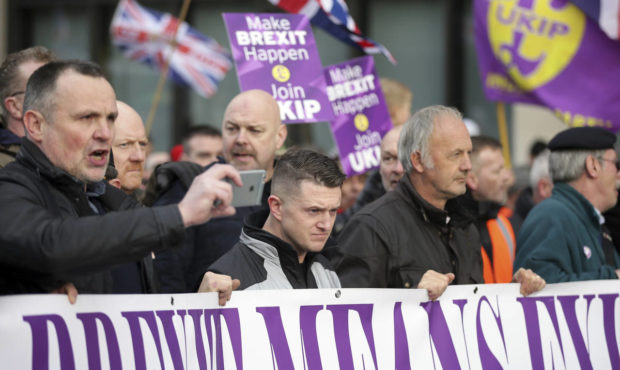 Tommy Robinson and the United Kingdom Independence Party held a "Brexit Betrayal" march in London today.
Thousands of people took to the streets in central London in a "Brexit betrayal" protest led by Tommy Robinson and Ukip.

Counter-demonstrators and anti-fascists held a separate protest they claimed had drawn some 15,000 people, although there has been no official crowd size estimates.

The Metropolitan Police mounted a significant public order operation to prevent potential disorder but only three arrests had been made – all of counter-protesters – by the time both rallies ended.

Robinson, the English Defence League (EDL) founder who has been welcomed into the Ukip fold as an adviser to leader Gerard Batten, hinted he could run as a Ukip MP.

Speaking at the Brexit "betrayal" rally, he said that after watching MPs criticise him in parliament he "thought one day I'll be sitting in there amongst you".
As most of you already know, British Prime Minister Theresa May has deliberately sabotaged Brexit. She has pushed a Brexit deal that isn't even Brexit. And in the midst of the political chaos, we see this renewed push for a second Brexit vote.
It's good that we see there is a significant amount of people angry about this, but I'm pessimistic that this will result in any positive movement on the issue. The British government is kiked to the extreme.
At the very least, what's happening here with Brexit is showing how retarded this so-called system of democracy is. Anytime White people vote in favor of their interests, we are given a million excuses as to why the will of the people can't be executed. It's really getting quite tiresome and explains why more and more people are becoming nationalists and fascists.