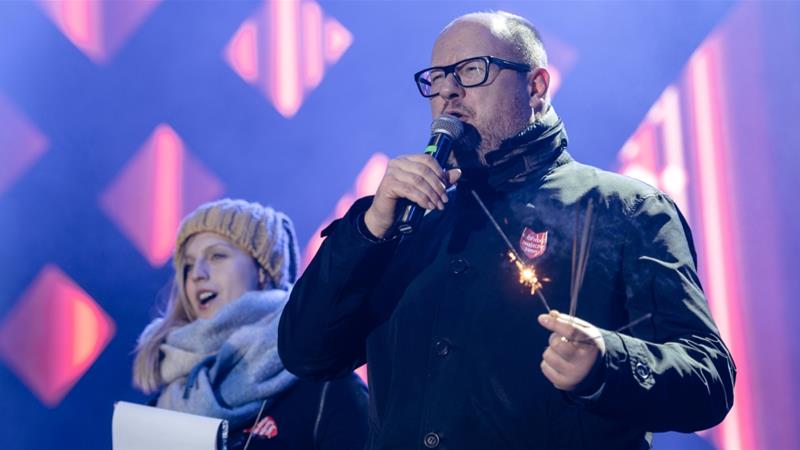 A Polish patriot just killed the traitor leftist mayor of Gdnask named Pawel Adamowicz by stabbing him at a charity event. The man who spent some time in prison said that he was wrongly put in prison and tortured and that killing the mayor was his revenge.
The Jews are mourning his death which means he was a traitorous piece of shit. Maybe somebody can dig up some more information, but it doesn't appear as if he was Jewish. The Jews are referring to him as a friend to their community and not a Jew.
AP:
For years, he was denounced by members of Law and Justice and some further to the right, who accused him of lacking patriotism or promoting degenerate values with his liberal views.

As mayor, he was a progressive voice, promoting tolerance for LGBT people and minorities. He showed solidarity with the Jewish community when the Gdansk synagogue had its windows broken last year, strongly denouncing the vandalism. He had also advocated bringing wounded Syrian children to Gdansk for medical treatment, but the plan was blocked by the Law and Justice government.

The American Jewish Committee and other Jewish organizations in Poland issued a joint statement Tuesday saying they were "stunned in disbelief" at the killing of a man who had supported tolerance and diversity.

"A man who became one of the symbols of opposition against racial and religious prejudices in Poland, himself became a victim of hatred," the statement said.
Of course, tolerance and diversity is just Jew code for less White people. While I don't endorse violence, I am definitely not sad to see this mayor die. Especially when one considers the amount of violence that originates from anti-fascists and other Jew-left groups.