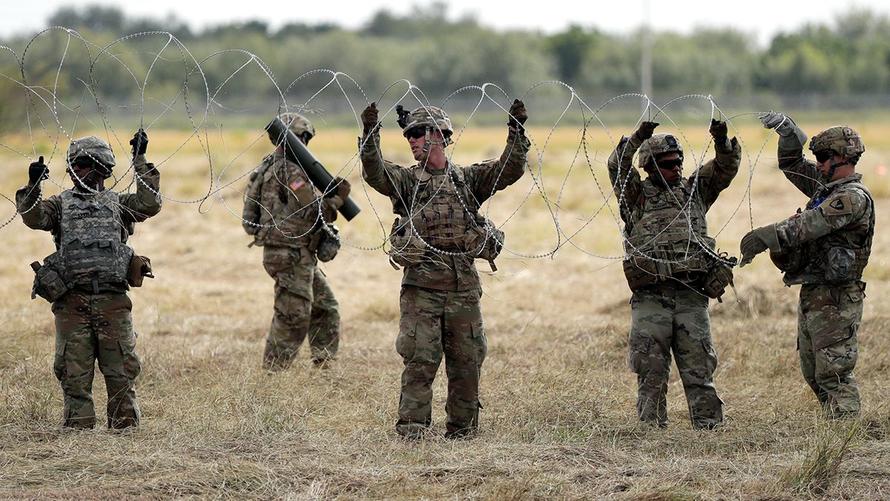 The military deployment to the southern border has been extended until September. Troops will continue to serve in a supporting role bolstering infrastructure and providing surveillance capabilities.
The Pentagon announced late Monday that it is extending the mission of active duty troops to the Mexico border through September, marking almost a year-long domestic deployment of forces there.

The approximately 4,500 active duty and National Guard forces now on the border were first sent there in late October 2018 to meet a request from President Donald Trump and the Department of Homeland Security to secure border entry points from thousands of immigrants traveling north through Mexico to seek asylum in the U.S. Several units have rotated in and out during that time, and have been tasked to lay concertina wire, barriers and help assist border patrol agents at points in Texas, Arizona and California.

The mission for those troops extending through September will also slightly change to add more surveillance, but some will still be laying wire, DoD said.

"In response to the December 27, 2018 request from the Department of Homeland Security (DHS), Acting Secretary of Defense Pat Shanahan approved Department of Defense assistance to DHS through Sept. 30, 2019," the Pentagon said in a statement. "DoD is transitioning its support at the southwestern border from hardening ports of entry to mobile surveillance and detection, as well as concertina wire emplacement between ports of entry. DoD will continue to provide aviation support."
What's really needed however is the border wall. The military should remain on the southern border until the wall gets built. There's another caravan forming in Central America and they intend on invading America while bringing their shithole ways to our country.
This is an invasion. There's no other way to describe it. The fact that the Democrats don't want to vote in favor of funds for border security is completely insane.
Ultimately, President Trump is probably going to have to pull the trigger on a national emergency and get the wall built. The Democrats have boxed themselves in with Nancy Pelosi calling the wall "immoral." So she's not going to support funding something which she's called "immoral." The Democrats are insane and negotiating with insane people is almost impossible.