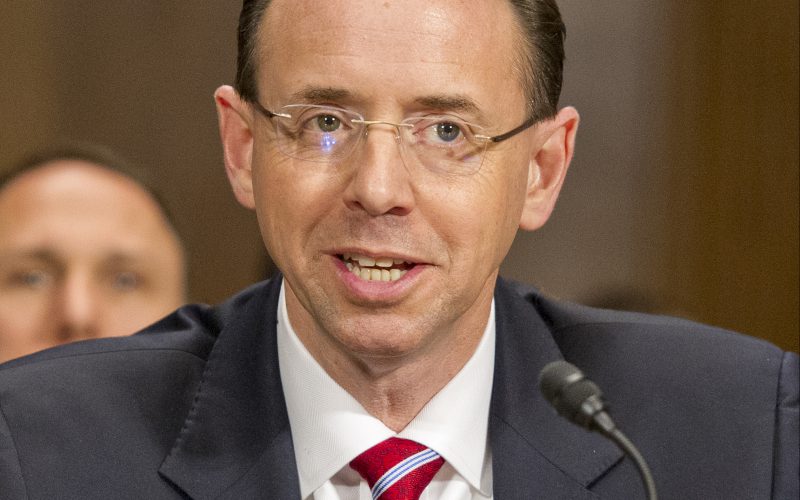 This is a long overdue move. The House of Representatives is preparing articles of impeachment against the kike Deputy Attorney General Rod Rosenstein.
House conservatives are preparing a new push to oust Deputy Attorney General Rod Rosenstein, according to three conservative Capitol Hill sources — putting the finishing touches on an impeachment filing even as Rosenstein announced the indictment of 12 Russian intelligence officers for interfering in the 2016 election.

House Freedom Caucus Chairman Mark Meadows, in fact, had the impeachment document on the floor of the House at the very moment that Rosenstein spoke to reporters and TV cameras Friday.

Conservative GOP lawmakers have been plotting to remove Rosenstein for weeks, accusing him of slow-walking their probe of FBI agents they've accused of bias against President Donald Trump.

Democrats contend Republicans' fixation on Rosenstein is really an effort to undermine special counsel Robert Mueller, who reports to Rosenstein and has been making inroads in his investigation of the Russian election interference plot. Mueller's probe has entangled members of Trump's inner circle and Trump has increasingly assailed it as a politically motivated "witch hunt" as it's presented greater danger to him and his allies.

Conservative sources say they could file the impeachment document as soon as Monday, as Meadows and Freedom Caucus founder Jim Jordan (R-Ohio) look to build Republican support in the House. One source cautioned, however, that the timing was still fluid.
Rosenstein has absolutely been stonewalling Congressional oversight of the Justice Department. There is no reason why Congress should not be given the documents that they've requested.
It is interesting that the Jew-run media has been trying to promote some type of weird scandal with Jordan though. He's obviously been one of the main people pushing for Rosenstein's impeachment so it is safe to assume that this manufactured scandal is in response to that.
They're basically trying to claim that Jordan is a bad person because some doctor was inappropriately touching wrestlers during physical exams when he was an assistant wrestling coach at Ohio State decades ago. The claim is that he knew that this doctor was doing weird shit and that he didn't tell anybody.
The whole thing is absurd and being put out for political purposes. It's difficult to believe that strong Division I wrestlers could be victimized by some perverted doctor. And even if we assume that he did know the doctor was doing weird shit, what was he supposed to do exactly? He was an assistant wrestling coach. He had no authority to do anything about it. The Ohio State wrestling coach at the time came out defending Jordan.
And then Rosenstein is asking for an army of federal prosecutors from across the country to review documents related to Trump's Supreme Court nominee Bret Kavanaugh. To the best of my knowledge, something like this has never happened before. It's obvious that this kike is trying to slow the confirmation process. He's basically doing everything in his power to block Trump's political agenda.
So yes, this kike should be impeached. The sooner the better. If this doesn't happen, Trump needs to get around to firing his ass. Although, such a firing would be unlikely to happen until after the 2018 elections.