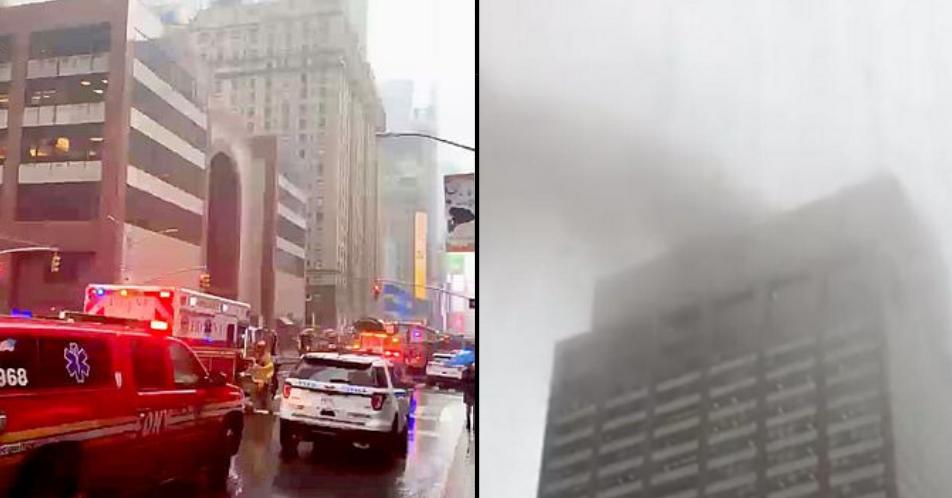 A helicopter just cashed into a New York City skyscraper. It has apparently resulted in a single death which right now is presumably the pilot. For some reason this is currently the biggest news story in the country and I'm not sure why. I guess people were assuming that it might have been terrorism, but this just looks like a wild chopper ride gone wrong.
There's all sorts of activity on Twitter about it.
NEW: Video shows helicopter flying erratically before crashing on the top of a high-rise building in New York City pic.twitter.com/Nd2w39up1Q

— BNO News (@BNONews) June 10, 2019
BREAKING: New York Fire Department is responding to a helicopter that reportedly crashed into a building in Midtown Manhattan: https://t.co/SlrM4QIGz5 pic.twitter.com/qqBs6JcWyy

— Complex (@Complex) June 10, 2019
FDNY members are operating on scene at 787 7th Ave in Manhattan, helicopter crash landing.

— FDNY (@FDNY) June 10, 2019
I have been briefed on the helicopter crash in New York City. Phenomenal job by our GREAT First Responders who are currently on the scene. THANK YOU for all you do 24/7/365! The Trump Administration stands ready should you need anything at all.

— Donald J. Trump (@realDonaldTrump) June 10, 2019
I will agree that it is legitimate news but the amount of attention on this story is a bit overblown. Must be a slow news day for the kikes in the media. Maybe they've finally started to run out of things to say about the Russia hoax.