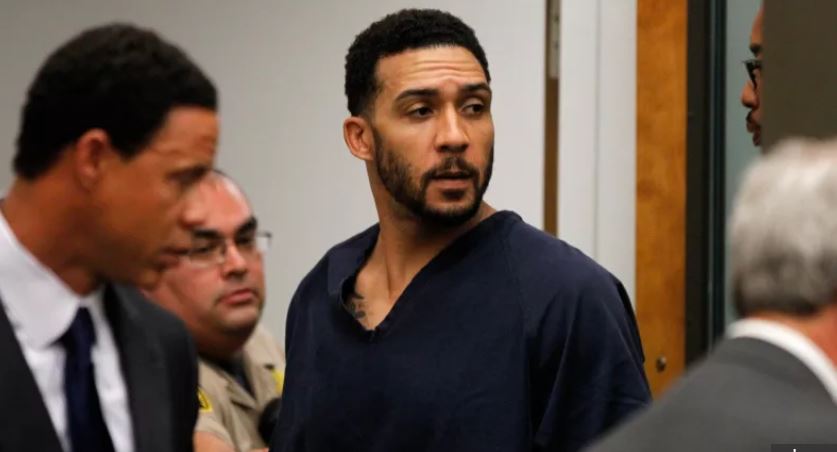 Here's another story proving that niggers need to be removed from our societies. Kellen Winslow Jr. a former NFL nigger has just been charged with raping and sodomizing elderly women between the ages of 54 and 86.
An eagle-eyed neighbor helped crack the bizarre case of a former NFL star now accused in a slew of attacks on women.

It was just after 2:30 p.m. on June 7 when the Encinitas, Calif., resident spotted him: a muscled, hulking, 6-foot-4 stranger emerging from her 86-year-old neighbor's mobile home.

He had no shirt on. And no reason to be there, she found when she confronted him.

"I go, 'What dog?' and he said, 'A red dog, Clifford.' And I went, 'There's no dog here.' "

He hopped in a black SUV and left, but the woman called cops, who soon arrested a man near the trailer park on a burglary charge, according to a report.

It was Kellen Winslow Jr., once the highest paid tight end in the league and the son of San Diego Chargers Hall of Famer Kellen Winslow Sr.

Winslow, whose publicist downplayed the arrest, posted bail the next day and was released. But prosecutors say the incident was a critical clue for authorities who a week later charged Winslow Jr. over a string of sexual attacks from March to May 2018 on women in Encinitas., where he lives.

Winslow stands accused of targeting five women, ages 54 to 86, in charges including forcible sodomy, rape and kidnapping. If convicted, he could end up behind bars for the rest of his life.
This nigger made millions of dollars during his time in the NFL. He was one of the better tight ends in the league during his career. Financially he was set for life. And what does he decide to do with his good fortune? He decides to spend his spare time raping and sodomizing old women.
How can niggers be a part of our society when someone in a privileged position like this can't stop themselves from behaving like a jungle savage? It's time to end this retarded idea that they can be successfully integrated. The exceptions are few and far between. The majority of them offer negative value to society.
In the old days, niggers like Winslow would be hanging dead from a tree by their neck for committing crimes like this. Take for example what happened to these two niggers.