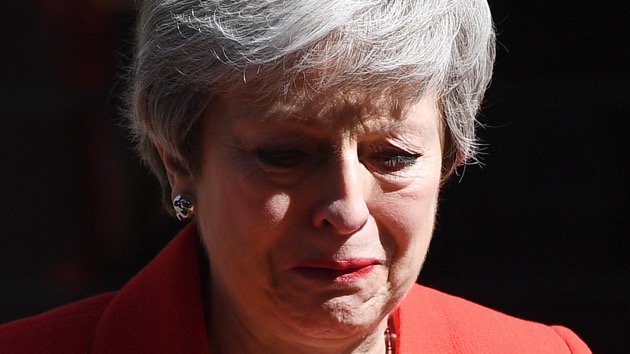 The evil childless hag known as Theresa May announced that she is resigning her office. What a disgrace this old bitch has been.
BBC:
Theresa May has said she will quit as Conservative leader on 7 June, paving the way for a contest to decide a new prime minister.

In an emotional statement, she said she had done her best to deliver Brexit and it was a matter of "deep regret" that she had been unable to do so.

Being prime minister had been the "honour of my life", she said.

Mrs May said she would continue to serve as PM while a Conservative leadership contest takes place.

It means she will still be prime minister when US President Donald Trump makes his state visit to the UK at the start of June.

Mrs May announced she would step down as Tory leader on 7 June and had agreed with the chairman of Tory backbenchers that a leadership contest should begin the following week.
What a joke. She even cried and droned on about how she tried her best. Yeah, best for who?
She spent her entire time in office attempting to sell the British people on legislation that wasn't Brexit while telling them that it was Brexit. It was the equivalent of telling somebody that a shit sandwich tasted like chicken.
May is another shining example proving why women do not belong in politics. This is someone who chose not to have children and instead pursued a pointless political career that resulted in her becoming one of the most hated political figures not just in her country but the entire world. The only thing she succeeded in doing was in bringing misery to the British people.
History will not treat her kindly. All she had to do was deliver on the Brexit referendum that the British people voted for and immediately leave the European Union. Instead, she played all these dumb games resulting in a horrible political crisis.
Fuck this old hag. I hope she dies and spends eternity in hell.