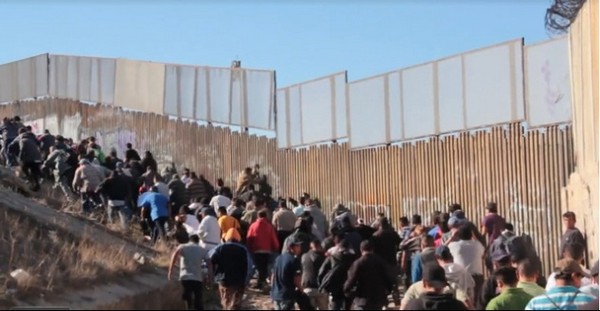 The situation on the southern border is a total cluster fuck. We have the head of the Border Patrol saying that they've detained 12,000 invaders attempting to cross the border illegally each of the past two days.
U.S. Customs and Border Protection Commissioner Kevin K. McAleenan said the border has hit it's "breaking point" during a visit to El Paso.

A huge influx of Central American migrants has made the El Paso Sector the second-busiest location on the U.S.-Mexico border.

McAleenan spoke Wednesday morning along the border in the Chihuahuita neighborhood in Downtown El Paso.

The immigration system "breaking point has arrived this week," McAleenan said.

"CBP is facing an unprecedented humanitarian and border security crisis all along our Southwest Border—and nowhere has that crisis manifested more acutely than here in El Paso," McAleenan said.

In the past two mornings, border officers took more than 12,000 migrants into custody along the border, McAleenan said.

"A high number is 4,000 — 6,000 is crisis level," McAleenan said. "12,000 is unprecedented. On Monday, we saw the highest total of apprehensions and encounters in years, with over 4,000 in a single day."
These invaders are just claiming asylum, the Border Patrol briefly detains them and then they dump them off at bus stations because they don't have the facilities to handle them.
#UPDATE More people being released at the bus station in McAllen after being let go by CBP due to lack of space. Border Patrol agents from other stations being sent to McAllen to help with the processing of immigrants. My live report is coming up. #immigration #BorderNews #Border pic.twitter.com/b2T2hJqirI

— Sydney Hernandez (@SydneyKGBT) March 25, 2019
#BORDERNEWS Border Patrol agents from the Rio Grande Valley are having to relocate to help with processing due to the high number of apprehensions. They're pulling agents away from the field and their assigned station to be sent to the McAllen Processing Center according to @CBP. pic.twitter.com/IdhryRGHyr

— Sydney Hernandez (@SydneyKGBT) March 26, 2019
They're projecting that we could see up to 1 million illegal aliens invade the country by year's end.
U.S. border authorities are predicting the number of undocumented migrants stopped at the southern border could reach as high as 1 million by the end of the year, potentially doubling last year's level, federal officials told ABC News on Tuesday.

The estimate, which includes illegal crossings and people arriving at ports of entry, comes as administration officials say they have limited options when it comes to deterring families traveling with children. The influx has gotten so bad at places like El Paso, Texas, that the central processing center there was 395 percent over capacity last weekend, forcing officials to process people beneath a street overpass.
Meanwhile we have the Homeland Security Secretary claiming she can't do anything unless Congress changes the law.
Make no mistake—our border crisis has gone from a national emergency to a near system-wide meltdown. We must be able to secure our borders AND protect vulnerable populations fleeing persecution. But we can't do this effectively without action to fix our laws.

— Sec. Kirstjen Nielsen (@SecNielsen) March 27, 2019
I call bullshit on that. She's just not trying to solve the problem. And it has been proven time and time again that you can justify doing almost anything by using the magic words "national security." But instead she's down in Honduras begging Mexico to stop all these shitholers from coming up north.
.@DHSgov is focused on confronting the border emergency at the source, which is why I'm in Honduras to meet with security leaders from the Northern Triangle—our goal is to strike a first-ever regional accord. https://t.co/3qF4QujPbO

— Sec. Kirstjen Nielsen (@SecNielsen) March 27, 2019
Whole thing is a joke just like it is a joke that America is even considered a country. That's actually the last thing you can call it considering we let any shithole person come in who wants to come in.