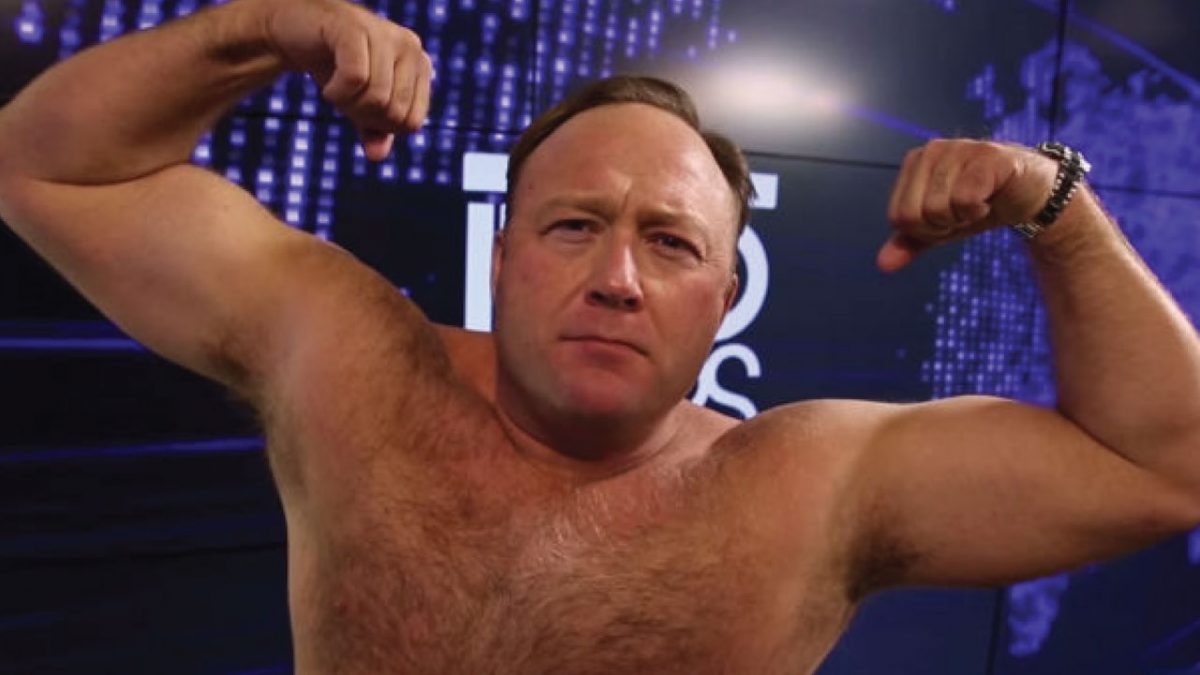 Alex Jones got put through the ringer by his Jew wife and now a former Jew and a former Negress employee are suing him for anti-Semitism and racism!
This is literally one of the funniest Alex Jones related stories of all time. He's being sued by two former employees. One is the Jew Rob Jacobson who worked for Jones for 13 years and the other is some Black female named Ashley Beckford who worked with InfoWars for a very short period of time. They're accusing him of all sorts of funny shit.
Conspiracy theorist Alex Jones has discriminated against his staff, laughed along with racist and anti-Semitic slurs against former employees and even groped one female worker, bombshell documents allege.

The controversial Infowars owner joked with staff who called Rob Jacobson 'The Jewish Individual', 'The Resident Jew' and shouted 'Yacobson' across the office, it's claimed.

Jones allegedly continually bullied, ridiculed and humiliated Jacobson – who worked for Jones' company Infowars for 13 years – before firing him last May.

Jacobson is in the process of suing Jones for discrimination, harassment and unfair dismissal and his lawyers have submitted a complaint to the Equal Employment Opportunity Commission (EEOC).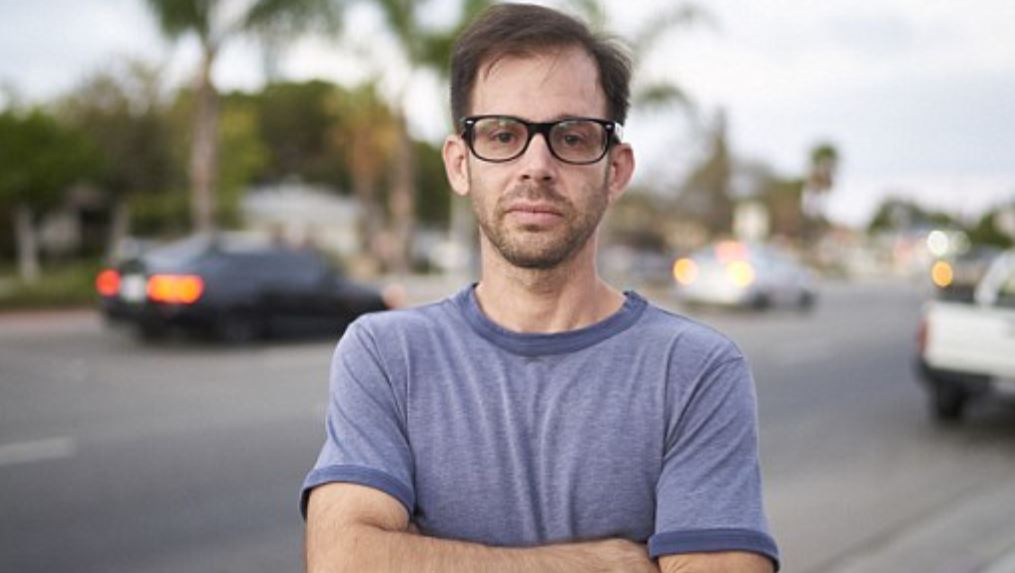 Rob Jacobson aka "The Jewish Individual"
lol at how Jones called Jacobson "The Resident Jew", "Yacobson" and "The Jewish Individual." I guess I could see that happening. But is that really enough to sue someone over?
A second former employee has claimed she suffered 'harassment and discrimination' at the hands of Jones and other senior managers at Infowars based on her race.

Former production assistant Ashley Beckford said she joined Free Speech Systems, Infowars' parent company, in June 2016 and the discrimination began almost immediately.

According to an EEOC complaint she too has filed: 'I was subjected to different terms and conditions of employment, in comparison to my non-Black African-American peers, when it came to my salary/wages and benefits (travel), and in regards to my dress, including my hair style.

'I also was subjected to harassment and racial slurs by Respondent's management and some peer colleagues, as well as subjected to sexual harassment and a hostile, sexually offensive work environment.'

In a series of allegations, Beckford, who is African American, says she was 'mocked' for her skin tone, called a 'coon' by a senior manager, and denied promotions to match the salary of other coworkers, according to the complaint documents.

She also accuses Jones and several other supervisors and colleagues of 'commonly leering at women in the office', and making 'sexual gestures and advances'.

According to the filing, she claims Jones groped her 'butt' after initiating a 'side-hug' while 'pretending to feel sympathy' over an incident Beckford was involved in.

The complaint states: 'Simultaneously, he was commenting to those in the room, "Who wouldn't want to have a black wife?".'

She added: 'I felt embarrassed and nervous, but I knew that he had specifically touched my behind at that moment as a sly come-on that other people may not notice.'
So Jones allegedly grabbed some nigger ass! And he apparently wasn't done either!
According to the EEOC complaint Beckford also alleges Jones tried to 'groom' her for 'sexual exploitation'.

She claims he made 'sexual advances' towards her and made comments about her having a 'good body that looked like I worked out a lot'.

'It's my opinion that it was his intention to see if he could groom me for sexual exploitation,' Beckford wrote in the complaint.

She added: 'Alex often spent his time shirtless, and endlessly leering, with or without a shirt, at female guests and employees while creating a disgusting, hostile environment.'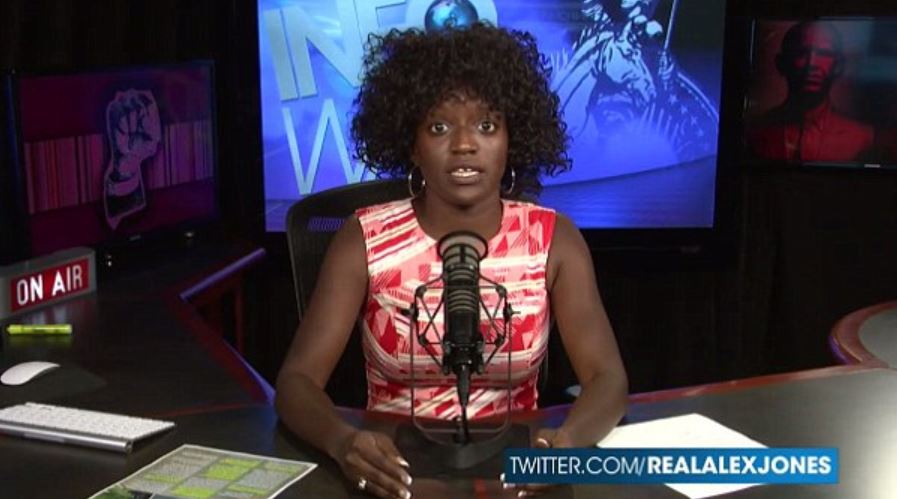 Ashley Beckford is the Negress accusing Jones of grabbing her ass. If Jones tried to fuck her, it is safe to assume that he'd probably fuck anything with two legs!
It sounded like this Negress wasn't pulling her weight so Jones may have figured he'd try to fuck her instead. Hard to say if that's 100 percent true, but I suppose it's possible. I do believe her story about Jones walking around the office shirtless though. He seems to get some type of weird enjoyment out of doing that. There are countless YouTube videos showing a shirtless Jones. Someone put together a 19 minute compilation of just some of the shit that's out there.
Beckford also claims she was intimidated by the constant display of guns in the infowars' office in Austin, Texas, which created an 'extremely hostile work environment' and alleges she was reprimanded if she ever questioned the actions of President Donald Trump.

Beckford was fired in April 2017 due to excessive 'write-ups', she claims.

Both Beckford and Jacobson are now being represented by lawyer Ben Meiselas, a civil rights leader at law firm Geragos & Geragos.

In Jacobson's EEOC complaint, he states: 'I am Jewish, and my employer used racial slurs against me, calling me "The Resident Jew," "The Jewish Individual," and "Yacobson." My workplace was a syndicated radio show, so these slurs were mad publicly, on air.

'My employer also inserted my face onto the photo of a Hasidic Jewish man and circulated that picture around the office.'
The fact that they're both being represented by the same law firm indicates that Jacobson probably put the Negress up to this. The Hasidic photo with Jacobson is funny as shit though.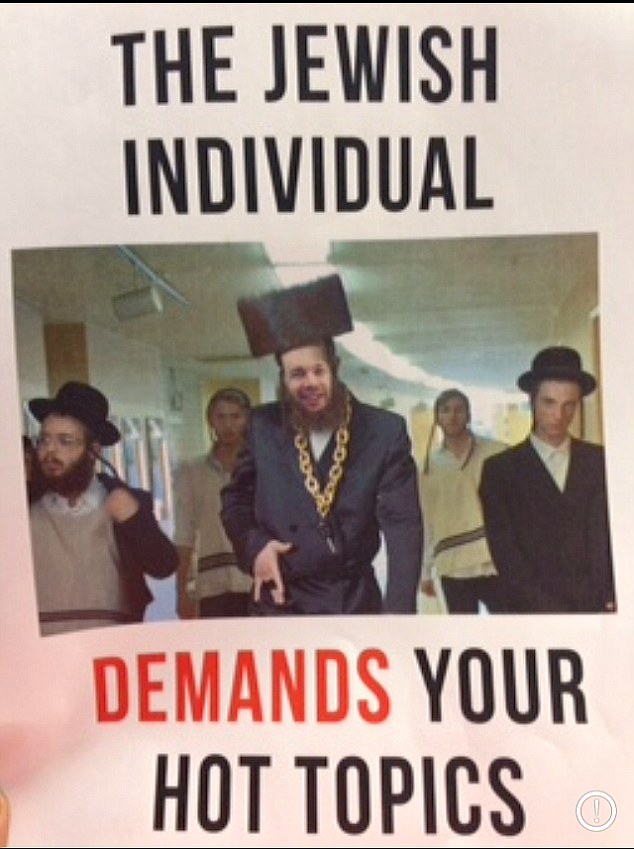 Perhaps the craziest allegation made is Jacobson accusing Jones of grooming him for homosexual sex.
In the EEOC report, Jacobson writes of the incident: 'From 2008-2012, Alex Jones called me Beefcake, referring to male porn stars,' Jacobson said. 'I felt like this was intimidating and harassing and a form of sexual harassment in that he was grooming me for homosexual sex.'

On one occasion, Jones allowed a friend to display gay porn on Jacobson's computer, according to the EEOC report.

'In 2014, The CEO of the company, Alex Jones, allowed his friend Shane Steiner into my office to display on my computer with images of gay pornography,' Jacobson said, adding that he made a formal complaint to the human resources department.

He continued: 'I believe this action was a continuation of the intimidation and sexual harassment in that he was grooming me for homosexual sex.'
This claim is patently ridiculous. Jones was just fucking around with Jacobson because a gay porn image came up on his computer when he and Jones were hunting around for images. You can say many things about Jones, but despite his Bohemian Grove experience, I certainly don't think there is anybody who seriously believes that he's a faggot. And besides, Jones fucked 150 women by the time he was 16.
The most important takeaway of all this is that Jones feels the same way we do about Jews and race. He just doesn't admit to this publicly because that would be the end of his revenue streams.
But now we are at a point where even people like Jones who don't openly talk about Jews and race are getting kicked off of the major platforms. He already has two strikes on his YouTube channel because of his coverage on the Florida school shooting. It is doubtful that YouTube is going to allow his channel to operate much longer. They're shutting down all right wing material.
I would seriously implore Jones to start talking about the Jewish problem and racial issues. I don't give a shit about what's happened in the past. If Jones starts talking about these issues, he'll have my full support.