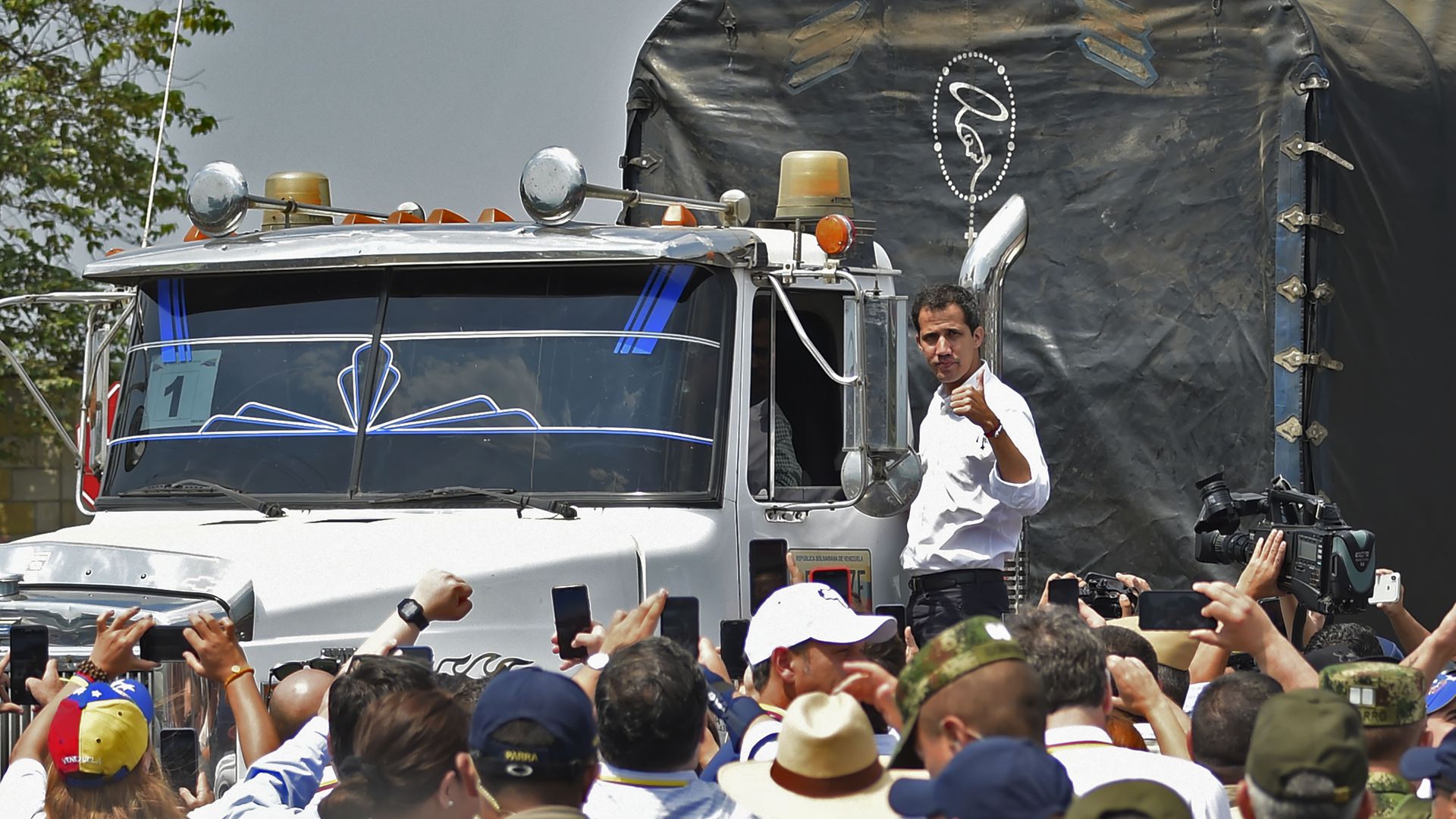 The shit going on in Venezuela is ridiculous. Venezuela's fake President Juan Guaido tried to force so-called "humanitarian aid" into the country from Colombia. There were also deadly clashes on the Brazil/Venezuela border as "humanitarian aid" was forcibly brought in.
AFP:
A high-risk opposition campaign to deliver humanitarian aid into Venezuela descended into deadly chaos Saturday after President Nicolas Maduro's security forces fired on demonstrators and aid trucks were set ablaze as his blockade held firm.

Two people, including a 14-year-old boy, were killed in clashes with security forces on the Brazil-Venezuela border amid efforts to bring in aid there, a human rights group said.

Opposition leader Juan Guaido had set a Saturday deadline for the delivery of food and medical aid stockpiled in Colombia and Brazil.

Aid is also being held on the Caribbean island of Curacao because of Maduro's ban. A boat from the US territory of Puerto Rico was also en route to Venezuela with humanitarian aid, Governor Ricardo Rossello said, without indicating its destination fort.

But hundreds of volunteers, many clad in white, were frustrated in their attempts to collect the aid at the Colombian border, pinned back by Maduro's security forces.

– Violent clashes –

Since dawn, protesters in the border towns of Urena and San Antonio were held at bay by the Venezuelan National Guard firing tear gas and rubber bullets.

Gunshots could be heard in the streets of Urena during hours of rioting. Civil defense officials in Colombia said at least 42 people had been injured in clashes on the main Simon Bolivar bridge crossing. Most were Venezuelan nationals who were trying to cross with aid parcels when they were pushed back by Venezuelan forces.

But the most serious incident came hundreds of miles away, at the Santa Elena de Uairen crossing point on the southern border with Brazil.

Two people were killed and 31 wounded when troops blocking the entry of aid opened fire on civilians hoping to gather it, according to rights group Foro Penal.
Venezuela's legitimate President Nicolas Maduro has ordered the border with Colombia closed. He has also suspended diplomatic ties with Colombia as a result of this stunt.
This entire thing has been orchestrated from the start. They even had the billionaire Richard Branson out there yesterday supporting a concert for Venezuela aid.
What happens next is anybody's best guess, but this could be used as a pretext for an invasion could it not? This is just more bullshit neocon adventurism. It's an attempt to overthrow Maduro in the name of "democracy" so ZOG can control the nation's oil supplies. This Guaido character has CIA written all over him.