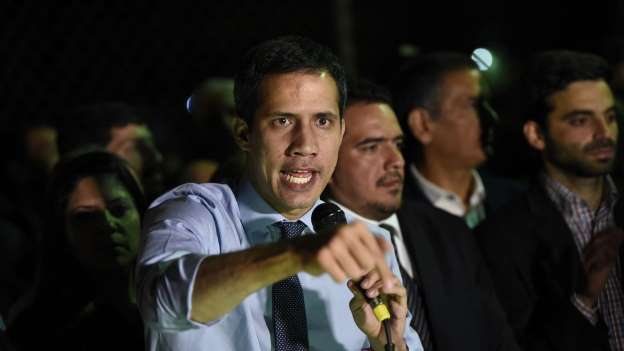 The CIA stooge named Juan Guaido who is falsely being presented as Venezuela's leader is attempting a military coup as we speak.
Venezuelan opposition leader Juan Guaido on Tuesday called for a military uprising to oust President Nicolas Maduro and armed factions exchanged gunfire outside a Caracas air base as the country hit a new crisis point after years of political and economic chaos.

Several dozen armed men in military uniform accompanying Guaido clashed with soldiers supporting Maduro at a protest outside the La Carlota air base, Reuters witnesses said, but the incident fizzled out and did not appear to be part of an immediate attempt by the opposition to take power by force.

Guaido, in a video posted on Twitter earlier on Tuesday, said he had begun the "final phase" of his campaign to topple Maduro, calling on Venezuelans and the military to back him.

Defense Minister Vladimir Padrino called the latest instability a "coup movement" but several hours after Guaido's announcement there was no sign of any other military activity and there were no immediate reports of casualties. Guaido later left a rally he was holding with military supporters at the air base.

Maduro said he had spoken with military leaders and that they had shown him "their total loyalty." "Nerves of steel!" Maduro wrote on Twitter. "I call for maximum popular mobilization to assure the victory of peace. We will win!"
They were apparently kidnapping people and shooting at cops. The situation is still fluid.
It doesn't appear as if it will be successful since Maduro seems to have solidified control over the military. However, this could result in people being shot in the streets which the Jewish media will use to claim that Maduro is killing his own people. They'll cry about human rights or some bullshit which will be used to get Donald Blormf to order a military invasion.