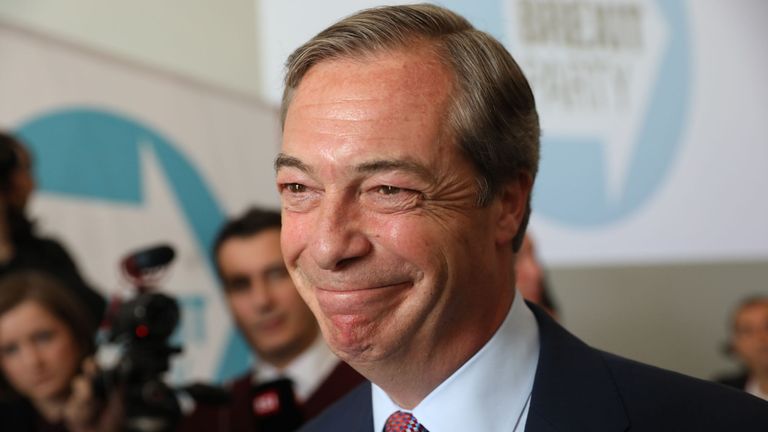 I'm glad to see that Nigel Farage has re-entered British politics in a big way. I was disappointed with him when he faded into the background after the 2016 Brexit vote. It was like he thought that his work was done even though there was zero guarantee that Brexit would actually be implemented.
He has re-entered British politics with the formation of the Brexit Party. And fresh off of a big victory in the European elections, the Brexit Party is now leading national opinion polls. This means that they would be the largest political party in the British Parliament.
Nigel Farage's newly-formed Brexit Party have sensationally topped the opinion polls in national elections for the first time, with Nigel Farage hailing it as a "historic moment".
The poll by Opinium showed that, in the event of a general election, the Brexit Party would be the largest party in Parliament with 26 per cent of the vote.

The Labour Party came second on 22 per cent and the governing Conservative Party in third place on 17 per cent, followed by the Liberal Democrats on 16 per cent. The Green Party received 11 per cent — a significant rise for them from just four per cent in the last Opinium poll.

Meanwhile, the anti-Brexit Change UK (CUK) party achieved just one per cent.

According to an electoral seat calculator, the poll's results would translate to 306 seats in the House of Commons — only 20 short of a majority — for the Brexit Party, with the Labour Party on 205 seats and the Tories down to just 26 seats.
lol out the Tories. That's what you get for putting an incompetent childless old hag in charge of your party.
I obviously have some disagreements with Farage, but if he is able to somehow become the British Prime Minister, it would be a definite shift in the right direction for the United Kingdom. It would mean that they would finally be able to leave the European Union and hopefully sort out a way to control their borders.
Anybody who has been to London knows that it has been over run with all sorts of black and brown filth. It looks more like Islamabad than a Western city. It's an absolute disgrace what has happened.
I'm not optimistic that Farage is the man to save the country, but he would at least set the country on a better path.