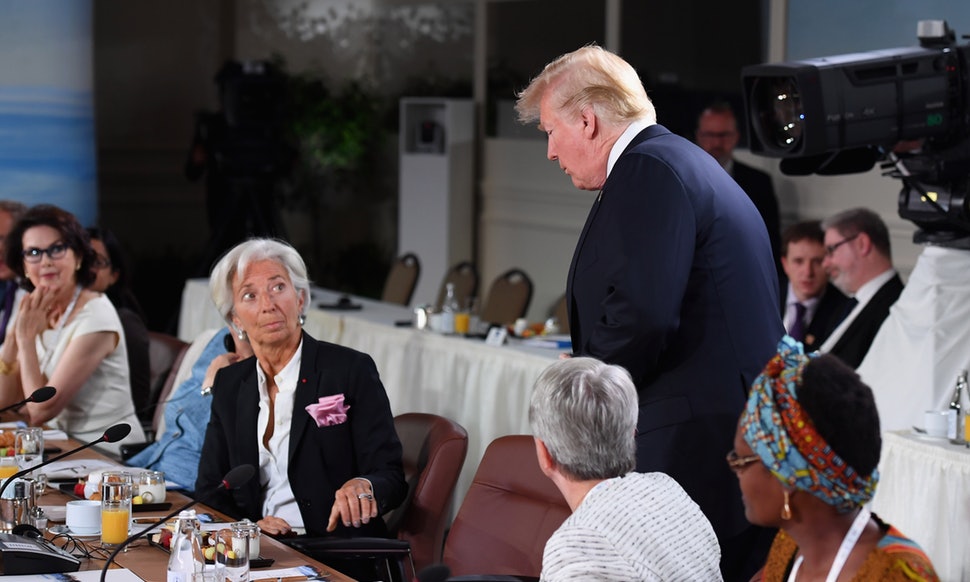 The G7 held some goofy breakfast dedicated to a discussion on gender equality. The whole thing sounded lame as fuck and a waste of time. Donald Trump no doubt agreed with my assessment and decided that he would arrive 17 minutes late. lol
Trump is a master troll. And all sorts of people took the bait.
Look at all these empowered womyn on Twitter whining and bitching about how he showed up late to this stupid breakfast.
Donald Trump arrives late to the working breakfast on women's empowerment. It appears to be quite the embarrassing moment as other leaders fuss/gasp when he arrives mid-opening comments. It also means leaders decided to start without him. So that too.

— Katie Simpson (@CBCKatie) June 9, 2018
He is such a fucking embarrassment!
Trump arrived late to the G7 summit breakfast on empowering women, and walked in after Trudeau had welcomed everyone to the session.
https://t.co/xsSQB7rE52

— Amy Siskind (@Amy_Siskind) June 9, 2018
AP grabbed this shot of Trump walking in late to the gender equality breakfast at the G7 summit pic.twitter.com/ZBR3dcXGcG

— Katie Watson (@kathrynw5) June 9, 2018
Trump showed up late to a breakfast on empowering women. We used to be one of the moral authorities in the world on gender equality. How are we supposed to serve as an example to countries that discriminate against women when our own president can't even show up on time? pic.twitter.com/bSx01mVGih

— Kathy Griffin (@kathygriffin) June 9, 2018
I mean let's face facts here. The whole concept of gender equality is retarded to begin with because both genders are different and can never be truly equal. Then you combine the fact that we have mentally ill lunatics promoting the idea that there are more than two genders and it further complicates the entire subject.
So therefore, I fully support Trump trolling this dumb breakfast. Why the fuck are world leaders spending so much time on such idiocy?