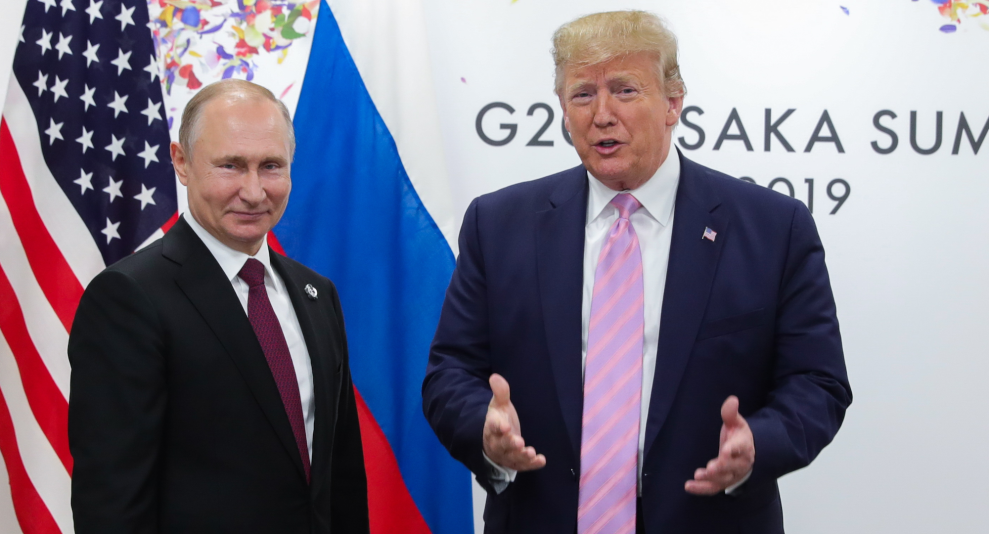 Donald Trump is over in Japan for the G20 summit. He is meeting with several world leaders and just met Russia's leader Vladimir Putin. This is the first time the two have met since Bob Mueller cleared Trump of charges that he was a Russian intelligence asset.
During the media's photo opportunity, he joked to Vladimir and asked him not to meddle in the election.
This joke did not sit well with Jews and the assorted the lunatics on Twitter.
Trump makes a chummy joke with Putin over "meddling in the elections." Putin chuckles. A gut-wrenching replay of #Helsinki , where Trump took Putin's side over US intelligence. https://t.co/LtEYsdRWSN

— Jeff Stein (@SpyTalker) June 28, 2019
When asked about the election meddling, Trump was dismissive and half-hearted when the moment called for a serious and firm statement.

Vladimir Putin surely grasped the import of Trump's lame gesture.

He got away with it and can again.https://t.co/iNNtlvgTRV

— Washington Post Opinions (@PostOpinions) June 28, 2019
President @realDonaldTrump is joking with Putin about interfering in our elections, but the joke is on us and Putin's the only one laughing.

President Trump is basically giving Putin a green light to interfere in 2020. https://t.co/iuTZsSxKMY

— Chuck Schumer (@SenSchumer) June 28, 2019
Putin laughed when Trump told him not to meddle in the election.

Didn't appear that Trump was actually admonishing the Russian president; he clearly wasn't being serious.

Putin got the joke.https://t.co/8dscaxfZXY

— Jennifer Jacobs (@JenniferJJacobs) June 28, 2019
I'm not even sure what they're kvetching over. Trump's kike son-in-law Jared Kushner and the neocon dream team of Mike Pompeo and John Bolton were attending the meeting.
You'd think they'd just give this whole Trump is a Russian agent thing a rest. Especially considering that Trump's foreign policy has been quite antagonistic to Russia.