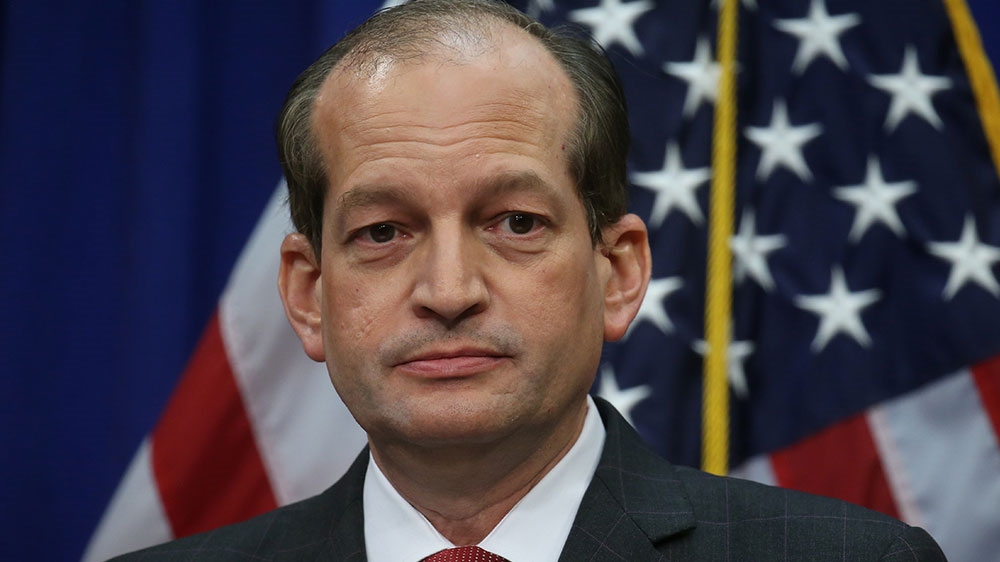 Alex Acosta the current Secretary of Labor was one of the people responsible for helping give the Jew Jeff Epstein the questionable plea deal pertaining to sex charges back in 2008. There are people from all sides calling for his removal after Epstein was arrested and charged with more sex crimes.
President Donald Trump said Tuesday that he feels "very badly" for Labor Secretary Alex Acosta, as the embattled Cabinet official faces an onslaught of calls by Democratic lawmakers to resign for his role in brokering financier Jeffrey Epstein's 2008 plea deal on sex abuse charges.

"I feel very badly, actually, for Secretary Acosta because I've known him as being somebody that works so hard and has done such a good job. I feel very badly about that whole situation," Trump told reporters in the Oval Office, adding that the White House will be reviewing Acosta's handling of the case.
So far Donald Trump has refused to fire Acosta over this situation saying that he's been doing a great job as Secretary of Labor. Pretty weird for him to defend Acosta when he immediately fired other people like Michael Flynn who ran into trouble. This situation with Acosta from a perception standpoint is far worse than any of the other things that came up with his other staffers and cabinet officers.
Of course Trump himself had social connections to Epstein. Maybe not as close as the connections people like Bill Clinton and Alan Dershowitz had but he was still connected to him. I'm not sure if this connection has something to do with this, but his defense of Acosta is certainly not good politics.
Acosta did a press conference today defending his actions but I don't think it helped his cause all that much.
He should immediately remove Acosta and move on from this distraction. The Secretary of Labor is not an important position and it is largely inconsequential who runs the Labor Department.