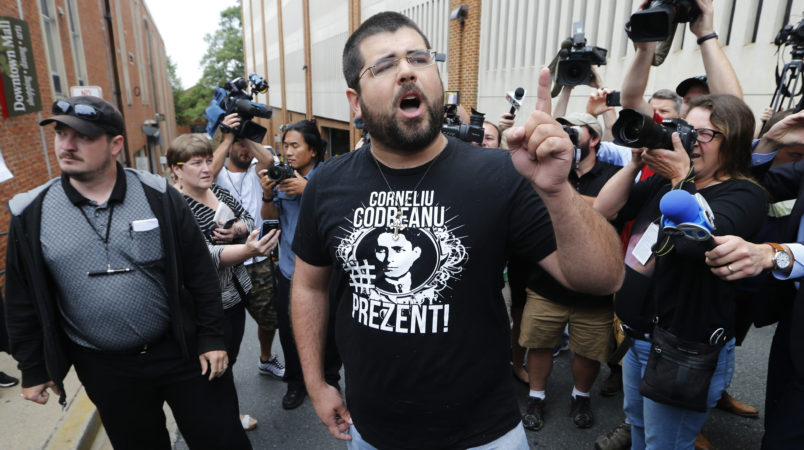 Matthew Heimbach the leader of the Traditionalist Worker Party was arrested for domestic violence the other day. Since his arrest, the organization has been in shambles. In fact, it sounds like it is in the process of disbanding or may have already been disbanded.
Matthew Parrot who was a key figure within TWP has quit the organization following the incident. Him and Heimbach apparently got into a physical confrontation that involved Heimbach's wife who is also Parrot's step daughter and Parrot's wife who Heimbach was having an affair with. The police report that has been made public literally makes the incident sound like a skit that aired on the Jerry Springer show.
Here's a brief summary provided by the local news.
An Indiana man who's considered an instrumental leader in the white nationalist movement faces charges after an altercation with his wife's stepfather.

Matthew Heimbach is charged with misdemeanor battery and felony domestic battery, according to court records.

Heimbach was arrested early Tuesday morning on preliminary charges of battery and strangulation, according to our media partners at the IndyStar.

Heimbach lives in Paoli, Indiana, and is the chairman of the Traditionalist Worker Party, a white nationalist group that has been identified as a hate group by the Southern Poverty Law Center. He was a key promoter of the August 2017 "Unite the Right" rally in Charlottesville, Virginia, and has been described as "the next David Duke."

His arrest stemmed from a fight between Heimbach and his wife's stepfather, Matt Parrott. A report from WHAS said it happened after Parrott confronted Heimbach about an alleged affair with Parrott's wife.

The incident happened at the Paoli property where Heimbach and other members of the Traditionalist Worker Party live. Parott told police that Heimbach "choked him out" and said he briefly lost consciousness. He ordered Heimbach off his property, but Heimbach refused.

Parrott then sought refuge at a nearby Walmart and called police.

After meeting with Parrott, Paoli police went to track down Heimbach. A police officer reported hearing him raise his voice, followed by some scuffling. Heimbach's wife told the officer that he'd pushed her and grabbed her face in front of their two children.

Parrott, who served as spokesman for the Traditionalist Worker Party, said he's resigned his position.
The whole situation is very unfortunate. Heimbach is on probation from a previous incident stemming from a physical altercation at a Donald Trump rally. This means that he'll probably get sent to prison.
Personally, I have no ill feelings towards Heimbach. I've never met nor talked to him. I wish him well and hope he works his way through this situation.
That aside, I had some serious questions about what TWP was doing in the past few months. They seemed to be promoting a secessionist agenda that they thought could be achieved with goon marches in the streets. Their rhetoric which focused on bashing Capitalism was confusing and made it sound like they were Communists instead of Nationalists. They were at Richard Spencer's speech at Michigan State University and when they fought the anti-fascists it was difficult to make out the two opposing sides.
TWP was also involved in an extensive blackpilling campaign on the TRS forum. They were falsely claiming that American Nationalism was the equivalent of Civic Nationalism while spending their energy attacking other people who didn't agree with their political tactics or how they marketed themselves. It seemed to be a cynical attempt to disrupt and takeover the discourse of the community.
Whatever their motivations were, I believe much of what TWP was doing in the past few months has been counterproductive to what many of us want to achieve. It felt like they were trying to execute some bizarre infiltration agenda.
I think the main take away to this is that we need to be recruiting quality people of good character to our cause. Since Heimbach was a highly visible figure in the Jew-run media, this incident is now being politicized to attack the entire movement as a whole.
Despite my political disagreements with TWP, there is certainly no reason for any of us to gloat or feel good about what happened. It's just a terrible all around situation.