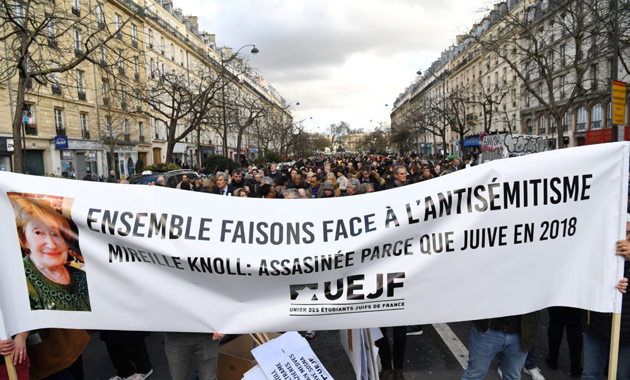 This is a case where the Jews have Jewed themselves. Jews have been at the forefront of promoting multiculturalism and racial diversity in Europe. Thanks to this program, a Jew Holohoaxer was stabbed to death and set on fire by an Arabic individual.
This has prompted thousands to march in the streets of Paris to demand an end to anti-Semitism.
Thousands of mourners silently walked through Paris on Wednesday to condemn the gruesome murder of an 85-year-old Jewish woman, the latest in a series of anti-Semitic attacks that have convulsed France's dwindling Jewish community.

Mireille Knoll reportedly escaped a notorious World War II roundup of Paris Jews, in which police herded some 13,000 people — including more than 4,000 children — into a stadium and shipped them to the Auschwitz death camp in Nazi German-occupied Poland.

Knoll managed to flee with her mother to Portugal.

After the war she returned to the French capital and married a Holocaust survivor, who died in the early 2000s.

Knoll was found dead in her bed in her small apartment in eastern Paris last Friday by firefighters called to extinguish a blaze, as Breitbart News reported.

The CRIF compared the cowardly killing to that of Sarah Halimi, 65, who was beaten and thrown from her balcony last April. That murder was reclassified as anti-Semitic last month. The suspect is in a psychiatric hospital.

Investigators are working on the theory that Knoll's killers stabbed her, robbed her and set her body on fire because she was a Jew.
This whole situation is ridiculous. The native French have been attacked over and over again by Arabs, Africans and Moslems of all type. Yet one Holohoaxing kike gets killed and we see thousands marching in the streets. And no I don't believe her story about escaping Auschwitz.
But is this one kike really that much more valuable than any of the French who have been killed by these savages? Definitely not in my view.
France needs to purge all of these groups from the lands. And yes that especially includes the Jews. They are not god's chosen people. They are an evil demonic race.