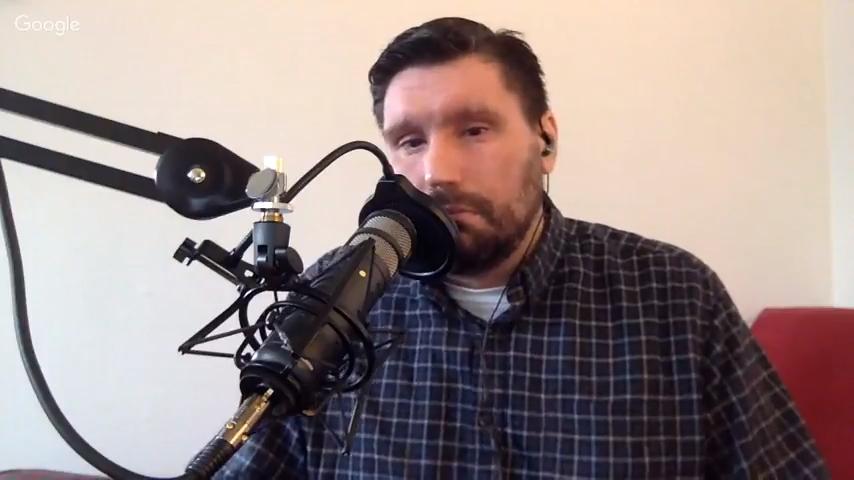 Mike Peinovich aka Mike Enoch claims you are insane if you question TheRightStuff.biz's association with federal informants and crazy weirdos.
The people over at TheRightStuff.biz are attempting to do major damage control after it was revealed that Jayoh De La Rey aka Jim Object, a major figure involved within their organization, said that he was arrested for trafficking drugs and all sorts of other crazy shit on a podcast back in 2012.
People are legitimately wondering why TRS would associate themselves with such a questionable individual let alone involve someone like this in the security of their real life meetup groups.
They have gone so far as to claim that people who have questions about this are falling for a "gay op," are "low IQ" or "insane."
TRS personnel have gone so far as to delete the comments and tweets of people who have been asking about this. They even went through the process of closing the comments section of their own site as part of their damage control efforts. If they weren't trying to cover up something, than what would be the purpose of doing such things? Why would they feel the need to shut down the comments of their own paying subscribers over a supposed "gay op"?
Last night, Mike Peinovich aka Mike Enoch from TRS went to Twitter claiming that Jim Object was simply trolling people on that podcast. He also implied that Andrew Anglin was insane for writing articles asking questions about Jim Object and implied that the dump of this podcast was part of a bizarre conspiracy involving the Southern Poverty Law Center and the Daily Stormer against TheRightStuff.biz.
So against my better judgement I am going to address "deep concerns." Not sure how much is real, and how much is malicious concern trolling, and I'm talking the bait, but here goes anyway. I will not be discussing this after this thread. So if you don't like what I say, tough.

— DSA Mike Peinovich🌹🚩 (@DSAMikeP) September 10, 2019
It's extremely disappointing what has happened to the Daily Stormer and Andrew Anglin, we used to be friends, we used to work together. I can't speculate about his mental health or his motivations for doing what he is doing. I just don't know. It's sad how much they have imploded

— DSA Mike Peinovich🌹🚩 (@DSAMikeP) September 10, 2019
About a week ago, I got word that the SPLC was working on a dox/hit piece of Jayoh. Michael Hayden was DMing alt-right accounts asking for info on Jayoh and shopping around claims that he had a criminal record. Most of those people just blocked him. A few told me about it.

— DSA Mike Peinovich🌹🚩 (@DSAMikeP) September 10, 2019
Then it seems that Matt Forney right around the same time released a recording of a larpy podcast Jayoh did in his ancap days, where he says among other things that he went to Harvard. It was obviously trolling. I don't know if Forney worked with Hayden, but the timing is weird.

— DSA Mike Peinovich🌹🚩 (@DSAMikeP) September 10, 2019
Then it seems that the Stormer, nursing a grudge they have had against us, picked up on what Forney posted. Weird because Anglin used to call Forney a fat retarded liar (true story), and said he wanted nothing to do with him, can hardly blame him for that.

— DSA Mike Peinovich🌹🚩 (@DSAMikeP) September 10, 2019
I regret that the Stormer has gone this direction. What happened to them was incredibly unfair, I disagree with the censorship they faced, I disagreed with the court judgements made against them. I can't speculate why they started doing this. It's just sad all around.

— DSA Mike Peinovich🌹🚩 (@DSAMikeP) September 10, 2019
The insinuations made in their article are obviously bad faith interpretations intended to cause trouble, just as they did months ago and were ignored and humiliated by it. So they upped what they were doing. I still feel like responding to it is losing some kind of shit test.

— DSA Mike Peinovich🌹🚩 (@DSAMikeP) September 10, 2019
Andrew Anglin has no knowledge of any roles anyone in the TRS organization plays, nor what any of the organizational methods of various unaffiliated fan clubs may be. Those accusations are made up out of whole cloth.

— DSA Mike Peinovich🌹🚩 (@DSAMikeP) September 10, 2019
Interestingly, similar bad faith accusations about the fate of our data and such were made months ago by a different set of bad actors, but back then the culprit was Weev who was supposedly compromising our data. Our data is not compromised. Period.

— DSA Mike Peinovich🌹🚩 (@DSAMikeP) September 10, 2019
I don't know if Daily Stormer and/or Matt Forney are working with the SPLC or not, I can't speculate about that. But Michael Hayden has announced in an article here that he actively infiltrates alt-right groups to poison the well. The timing here is funnyhttps://t.co/aPPP6JVmQD

— DSA Mike Peinovich🌹🚩 (@DSAMikeP) September 10, 2019
Maybe it's just a coincidence, maybe Hayden laid some bait and it was just picked up and amplified. Wh knows? I will say that Hayden was *very* pleased with himself over this today. Maybe it's all just serendipity for him.

— DSA Mike Peinovich🌹🚩 (@DSAMikeP) September 10, 2019
That's really it. I have nothing more to say. I have tried to eschew drama and infighting, tried to give everyone the benefit of the doubt and keep everyone focused on the real target. Sad that we have to do these things.

— DSA Mike Peinovich🌹🚩 (@DSAMikeP) September 10, 2019
This is the last I'll be discussing this or any other gay ops initiated by the Daily Stormer. If you are displeased with this and want to unsubscribe, I'll see you when you sign back up next month. Until then, enjoy the free shows.

— DSA Mike Peinovich🌹🚩 (@DSAMikeP) September 10, 2019
Eric Striker another major TRS personality also implied that Anglin was insane for raising any questions about Jim Object.
Lastly: I harbor no ill will towards Anglin and know the system has done a number on him and is terrorizing his family. He is also incredibly suggestible. I hope he is able to ultimately pull through whatevers going on and be well.

Last time I engage with this baby shit.

— DSA Striker Is Amazing (@AarickStriger) September 10, 2019
He also implied that anybody asking about the Jim Object podcast is either part of a COINTELPRO fed conspiracy or crazy.
In other words, the people asking about TRS's documented association with a federal informant are the real feds. How does that even remotely make sense? Isn't that what Jews do? Accuse your enemies of what you yourself are guilty of?
But let's assume for a moment that Peinovich is 100 percent correct and that Jim Object was just trolling people on that podcast. We'll assume that everything he said about being a drug trafficker, getting arrested by the feds, doing BDSM and being a tranny-fucker was him just fucking with people.
We'll even assume that the podcast was planted as part of a conspiracy by the SPLC and that Anglin has gone insane.
This still doesn't explain why Jim Object an individual who Peinovich now fully admits makes up bizarre stories about being a heroin dealer and a tranny-fucker, has been in communication with Christopher Cantwell an admitted federal informant. Nor does it explain why Morrikau a longtime TRS personality went on Cantwell's show after Cantwell admitted to being a federal informant.
So the best case scenario is that TRS has people within their organization communicating and working with a known federal informant.
And the worst case scenario is that Jim Object is a federal informant who was assigned to TRS and that TRS is a honeypot and list making operation for the feds. And one can only imagine what sort of ultimate purpose this would be meant to serve.
How is either scenario even remotely okay?
The fact that TRS is able to process credit card payments and their people are able to post openly on Twitter raises further questions. Even the most moderate of right-wingers are getting banned and blacklisted off of the major social media sites. So why is TRS exempt?
I have been banned off of every major online payment processor known to man and was banned off of Twitter several years ago. I was only on the platform for three weeks before Twitter's management threw me off the site. So the fact that major TRS personalities like Peinovich and Striker are able to post openly on Twitter with seemingly no consequence is weirdly suspicious.
The Daily Stormer is a website with no ability to process credit card payments and no ability to promote itself on Twitter or any other major social media. Yet TRS and other people associated with them are trying to deflect from the Jim Object podcast by claiming weird conspiracies involving bitcoin donations, domain registrations and other nonsense without addressing the core issue that has been raised.
Hunter Wallace has even wrote an attack article against the Daily Stormer without addressing the concerns being raised about TRS's association with Jim Object and a known federal informant like Cantwell. You can use your own judgment to determine what Wallace's motivations were in doing this.
But why does TRS feel the need to go to such lengths to protect someone like Jim Object? This is an individual who at best is a psychotic liar that is in communication with federal informants and is at worst a federal informant himself. TRS has previously distanced themselves from people for far less serious transgressions.
We may never know the exact answer to this question but we are not insane for asking questions about Jim Object and all this other chicanery that is going on over at TRS. It would be irresponsible for any of us to not raise questions about a so-called dissident right-wing organization that is associating itself with federal informants.
At this point, anybody involving themselves with TRS is a damn fool. Their response to all of this, like their response to the revelations that Peinovich had a Jewish wife, is only serving to validate the concerns we had when all this information about Jim Object dropped.
The Krypto Report is a far better podcast than any of the nonsense you'll find behind TRS's paywall any way. The most recent episode gets into the TRS/Jim Object fiasco. It is well worth a listen.