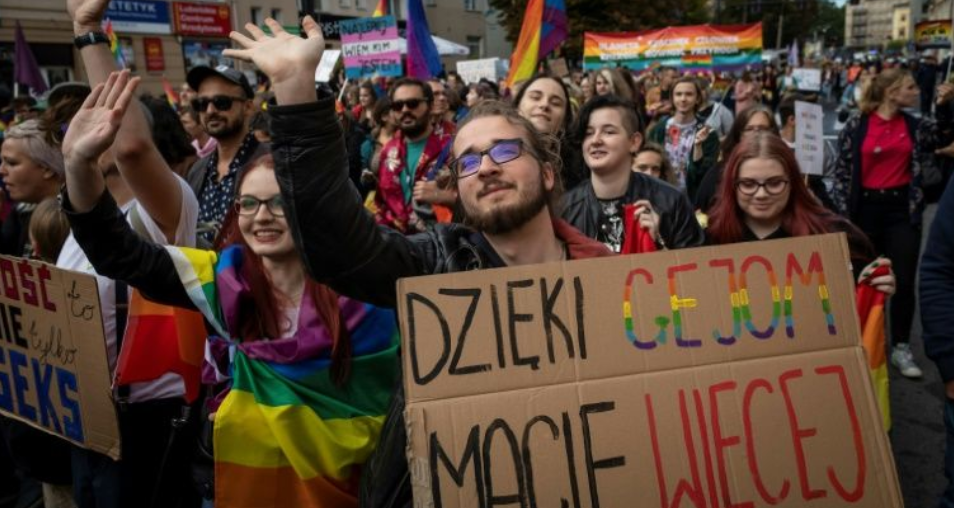 Partially due to both Jews and Donald Trump's agenda to legalize homosexuality around the planet, we now see the disease known as "the gay" invading Poland.
AFP:
Polish Gay Pride marchers under heavy police guard defied far-right groups and conservative campaigners on Saturday who hurled bottles and eggs in an attempt to block them, an AFP journalist saw.

Some 400 supporters of LGBT+ rights marched through the eastern Polish city of Lublin some 170 kilometres (105 miles) southeast of Warsaw, waving rainbow-coloured flags and banners with slogans such as "Jesus taught love" and "Homophobia threatens Polish families".

But counter-protesters, some wearing ultra-nationalist T-shirts, clashed with police as they moved to block the marchers and then yelling anti-gay slogans, hurled bottles and eggs as the pride rally moved through the city.

Police used tear gas and water cannon to disperse the counter-protesters, some of whom were taken into custody.

Earlier this week a Polish court overruled a ban imposed on the march by Lublin Mayor Krzysztof Zuk over safety concerns.

Lesbian, gay, bisexual and transgender rights have become a hot button issue ahead of the October 13 elections in the devout Catholic country.

Homosexuality is a frequent topic of public debate in Poland, whose conservative ruling party leader Jaroslaw Kaczynski condemned gay rights as a "threat" to traditional Polish families.

In July, a court ordered news magazine Gazeta Polska to stop distributing anti-gay stickers reading "This is an LGBT-free zone".
This is not good. If "the gay" is invading Poland one of the most conservative European countries on the continent, there is no telling how far this disgusting disease will spread.
This is an extreme situation which requires an extreme measure. That is why I am proposing we punish faggots with death. Maybe after a few faggots are publicly executed, it will discourage men from sticking their cock up another man's asshole.