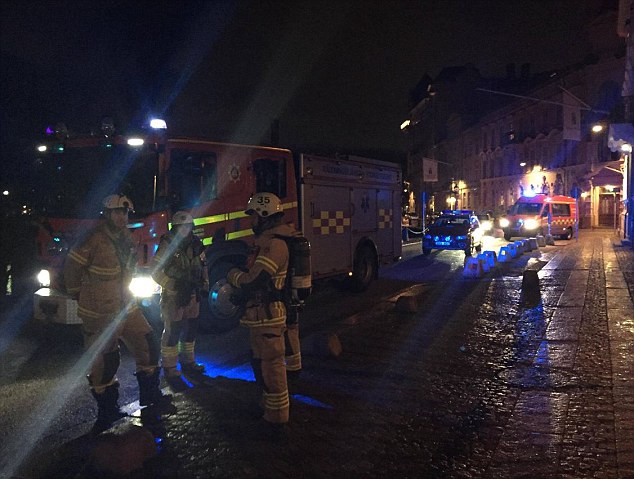 Looks like some Jews just got culturally enriched in Sweden!
Some news out of Sweden. A synagogue in Gothenburg just got firebombed by an angry mob of cultural vibrants who were angry at Trump's Jerusalem declaration.
JTA:
More than a dozen men hurled firebombs at a synagogue in Gothenburg in southern Sweden hours after locals marched in the city against the United States' recognition of Jerusalem as Israel's capital.

No one was injured in the attack Saturday night, which ended without injury, the online edition of the Expressen daily reported.

Dvir Maoz, the World Bnei Akiva youth movement's emissary in Gothenburg, told JTA that the attack happened a little after 10 p.m. while youths from the local Jewish community were attending a party inside the synagogue complex. Looking outside from inside the synagogue lobby area, he said he saw in the corner of his eye "a ball of fire" approaching the building. "The guards saw it in the security cameras and called police right away. The children were stressed, it was the first time they had ever experienced a terrorist attack near them."
I hope that those Jews hiding in the synagogue enjoyed getting enriched with diversity and multiculturalism. They seem to be a big fan of this sort of thing and this type of cultural enrichment was long overdue for them. Now they are getting a small taste of what Whites have had to put up with all around the world.
The Jerusalem declaration by Trump has had all sorts of positive real world effects so far. Prior to this event, a man with a Palestinian flag fucked up a kosher restaurant in Amsterdam.
This is just the beginning. Jews are going to be attacked all over the world and there's nothing they can do to stop it.
Maybe the Jews can try calling Trump anti-Semitic for declaring Jerusalem the capital of Israel. Yeah, I'm sure that will work considering you Jews have demanded this for some time now.
As things heat up in the occupied territories, they're going to also heat up around the world. It is safe to assume that these types of attacks against the Jews are going to continue.