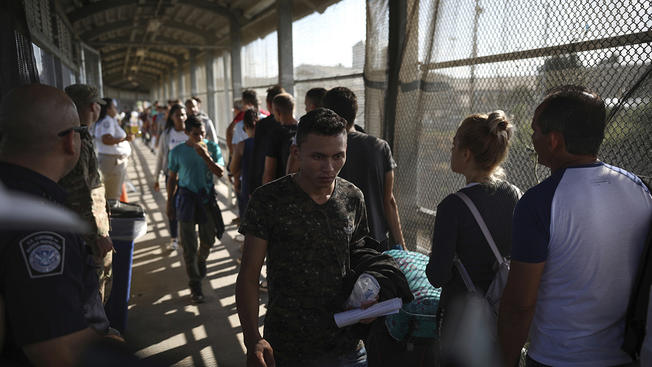 Donald Trump's ban on Central Americans flooding into the country and demanding asylum has been temporarily upheld by the Supreme Court.
NYT:
The Supreme Court on Wednesday allowed the Trump administration to bar most Central American migrants from seeking asylum in the United States, while the legal fight plays out in the courts.

The Supreme Court, in a brief, unsigned order, said the administration may enforce new rules that generally forbid asylum applications from migrants who have traveled through another country on their way to the United States without being denied asylum in that country.

The court's order was a major victory for the administration, allowing it to enforce a policy that will achieve one of its central goals: effectively barring most migration across the nation's southwestern border by Hondurans, Salvadorans, Guatemalans and others. Mexican migrants, who need not travel through another country to reach the United States, are not affected by the new policy.

It was the second time in recent months that the Supreme Court has allowed a major Trump administration immigration initiative to go forward. In July, the court allowed the administration to begin using $2.5 billion in Pentagon money for the construction of a barrier along the Mexican border. Last year, the court upheld President Trump's ban on travel from several predominantly Muslim countries.
This is good news. It is going to take awhile for the pending legal cases to make it through the courts so this means fewer of these invasive savages flooding into America.
Between this, getting Mexico to help with security and the border wall starting to take shape, it seems as if Trump has been able to make some progress on the illegal alien invasion front. Of course, none of this matters in the long run unless the legal immigration system is fixed. That's a much bigger problem.