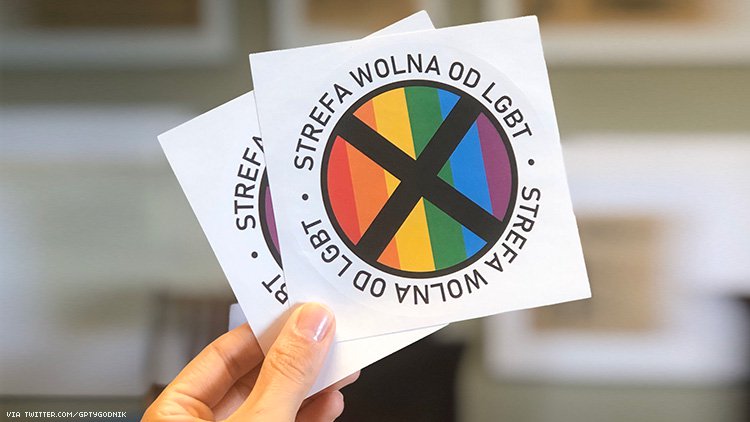 Due to Donald Trump's global agenda to make the world gay again, the US Ambassador to Poland has criticized the Poles for a plan to distribute "LGBT-Free Zone" stickers.
The U.S. ambassador to Poland joined a litany of criticism against "hatred and intolerance" by supporters of the conservative government over a magazine's plan to distribute "LGBT-free zone" stickers.

The question over gay rights is becoming a polarizing issue before fall general elections, underscoring a departure by the ruling Law & Justice Party from the European Union's liberal, multicultural mainstream. Party leader Jaroslaw Kaczynski has warned that the advancement of gay rights is a "grave danger" for Poland's families and the future of the bloc.

His supporters have embraced that message, with about 30 cities, mostly in the former communist country's poorer eastern regions, adopting declarations saying they're "free from LGBT ideology" and opposing "social engineering that's foreign to Polish culture and natural order." The pro-government Gazeta Polska weekly is now planning to distribute the stickers to its readers.

"I'm concerned and disappointed that some groups use stickers to promote hatred and intolerance," U.S. Ambassador in Poland Georgette Mosbacher said in a Twitter post Friday.

"I'm not sure this is a matter U.S. ambassador should raise, but I wouldn't put this sticker on my door," Cabinet spokesman Piotr Muller told Polsat News television.
I don't see how the internal affairs of Poland are of any business to the US Ambassador. They shouldn't be commenting on such things. And besides, removing homosexuality and all this other faggot garbage from society is a positive thing. There has been zero positive benefit to liberating faggots. Just look at America for example. The whole thing has been a societal disaster.