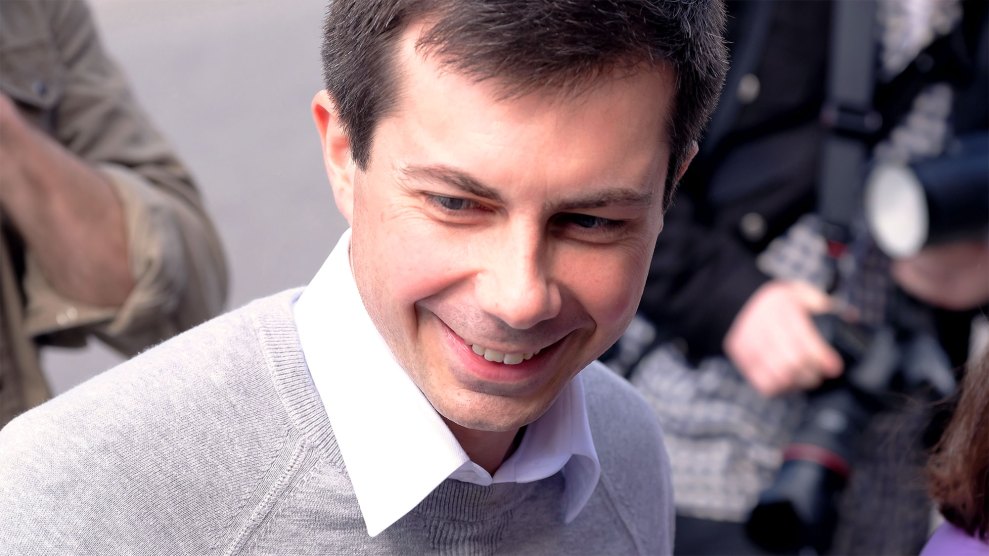 Pete Buttfag is leading Democrat polls in Iowa now.
South Bend Mayor Pete Buttigieg holds a clear lead among Democratic presidential candidates in Iowa, the state that will hold the first nominating contest in February, a new Des Moines Register/CNN/Mediacom opinion poll showed on Saturday.

Buttigieg's support climbed to 25%, a 16-point increase since the previous survey in September, CNN reported.

It said there was a close three-way battle for second with Massachusetts Senator Elizabeth Warren at 16%, and former Vice President Joe Biden and Vermont Senator Bernie Sanders each at 15%.

Since September, Warren dropped six percentage points and Biden slipped five points, while Sanders gained four points, CNN said.

Buttigieg, the 37-year-old mayor of South Bend, Indiana, told the network the news was encouraging and his campaign felt growing momentum in the farm state, but there was "still a lot of work to do" in increasing his name recognition there.
The media is making a big deal out of this, but I don't think it really matters. Sure, he could win Iowa, but he has zero support among blacks because blacks don't like faggots. So the chances of him winning the nomination is slim.
And while it isn't impossible to see him winning the nomination, it is almost impossible to see him, Elizabeth Warren or whoever else emerges on the Democrat side defeating the orange man in the general election. That's why the Democrats are pushing this hoax impeachment nonsense so hard.
And does anybody really think America is ready for an openly homosexual president? I don't care what the Jewish media says, the vast majority of people really don't like all this open faggotry that people like Buttfag represent.