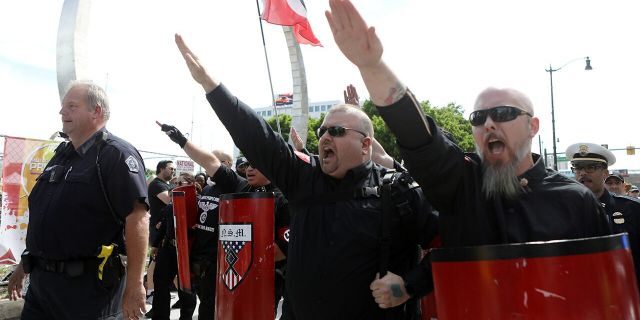 The National Socialist Movement or NSM went to Detroit this past weekend and disrupted a fag parade. One of their members reportedly urinated on an Israeli flag.
A group of white nationalists marched on an LGBTQ event in Detroit on Saturday, demonstrating Nazi salutes and carrying weapons.

Members of the National Socialist Movement (NSM) caused outrage at the event meant to celebrate gay pride, and one member was photographed appearing to urinate on an Israeli flag.

The Motor City Pride is described on its Facebook event page as the largest pride month event in Michigan, with 40,000 people marked as attending. On Saturday, some individuals tried unsuccessfully to stop the NSM group from entering the streets, which were blocked off by police and lined with rainbow flags.
I do not know the people in the NSM but dressing up like the Jewish Hollywood version of a Neo-Nazi stereotype has proven to not be an effective way to change anything. This has been tried over and over again for decades.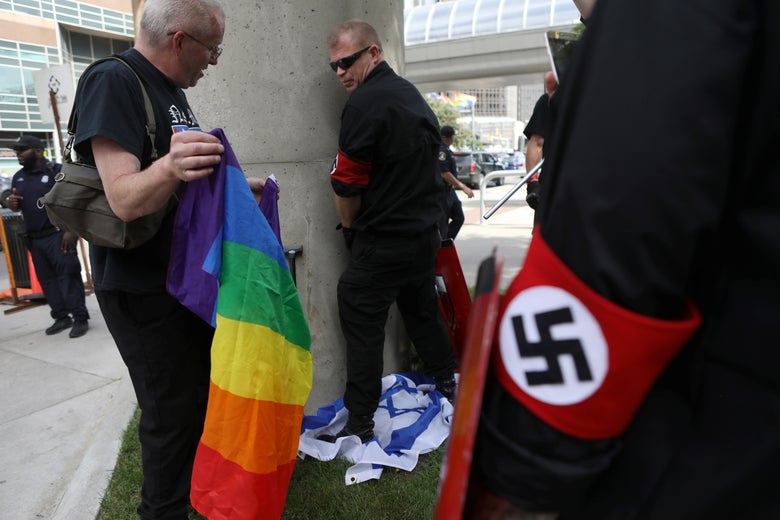 The average person is not going to be drawn to support a group of people wearing swastikas who urinate on Israeli flags. This type of behavior is only going to appeal to people on the fringes of society.
Back in the 1970s, one of the major Nazi groups was actually led by a Jew named Frank Cohen. And that by itself says quite a bit.
This type of costume Nazi stuff doesn't work and it really should stop. It only helps reinforce the negative Jewish stereotype of anybody who has pro-White views.