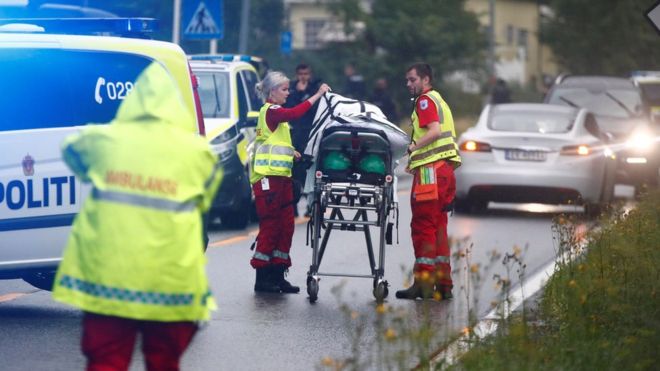 In Norway, it is being reported that a White man wearing body armor and a helmet shot up a mosque. He only managed to injure one of the Moslems though.
BBC:
A man has been arrested in Norway after a shooting inside a mosque left one person injured.

Police say a gunman opened fire on the Al-Noor Islamic Centre, near the capital Oslo, on Saturday.

The suspect has not been named, but police have described him as a "young white man".

The mosque's director told local media that the victim was a 75-year-old member of the congregation.

"One of our members has been shot by a white man with a helmet and uniform," Irfan Mushtaq told local newspaper Budstikka.

He later told local channel TV2 that the attacker had "carried two shotgun-like weapons and a pistol. He broke through a glass door and fired shots."

The gunman, who wore body armour, was overpowered by people at the mosque before police arrived at the scene, Mr Mushtaq added.

Oslo Police confirmed the attack on Twitter, saying: "One person is shot. The severity of that person's injuries is unknown. One suspect is arrested".
It might be time to rethink this retarded Jewish idea of a multicultural society. It doesn't seem to be working out to well.
And if there isn't a serious and honest discussion about all the problems with multiculturalism, there only will be many more of these types of events. And they won't all end up in such a pathetically low score as this one did.