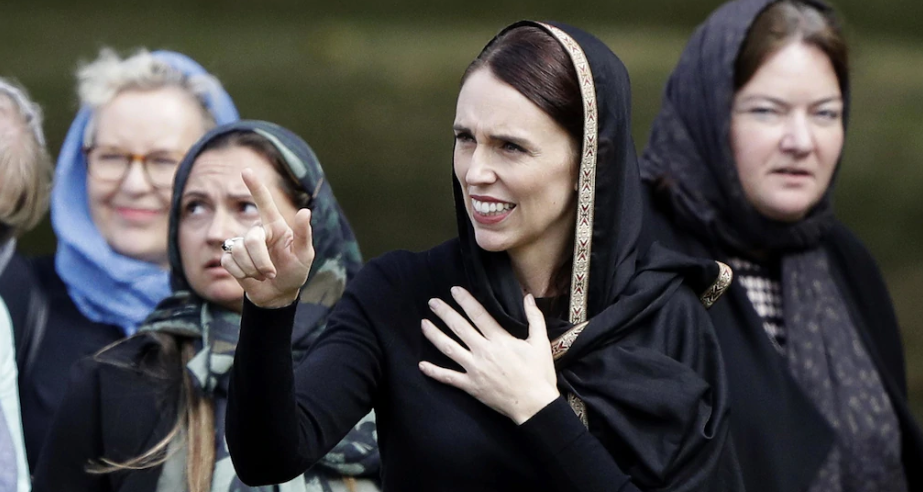 The Islamic Republic of New Zealand has just broadcast the Islamic call to prayer to honor all the dead Moslems who were killed during the Brenton Tarrant self defense episode last week.
BBC:
New Zealand has broadcast the Islamic call to prayer and observed a two-minute silence in ceremonies to mark a week since the Christchurch attacks.

Prime Minister Jacinda Ardern joined thousands of mourners near the Al-Noor mosque, one of two places of worship targeted in last Friday's shootings.

Imam Gamal Fouda, who led the prayers, said: "We are broken-hearted, but we are not broken."

Fifty people were killed and dozens more wounded in the attacks.
The New Zealand government is showing solidarity with the Moslems of the Al Noor mosque a known Al-Qaeda recruitment center. The Islamic government seeks to convert or kill all non-believers of Islam. They have zero tolerance for infidels.
The Supreme Leader of the New Zealand Islamic Republic Jacinda Ardern has issued a holy fatwa against one such infidel known as Bishop Brian Tamaki. Ardern has blasted Tamaki as a blasphemous non-believer who curses Allah. She has called for his death as dictated by Islamic Law.
Hold on a mo..On Friday..at least for a moment NZ will become a Muslim Nation..2min of silence is ok but th Islamic Prayer will sound? it contains this line "..there is no God but Allah" well I Disagree.."Jesus Christ " is th only True God..This is Not US! pic.twitter.com/gZFhWIic2q

— Bishop Brian Tamaki (@BishopTamaki) March 21, 2019
Ardern has declared that New Zealand will be purged of all infidels describing it as the will of Allah.