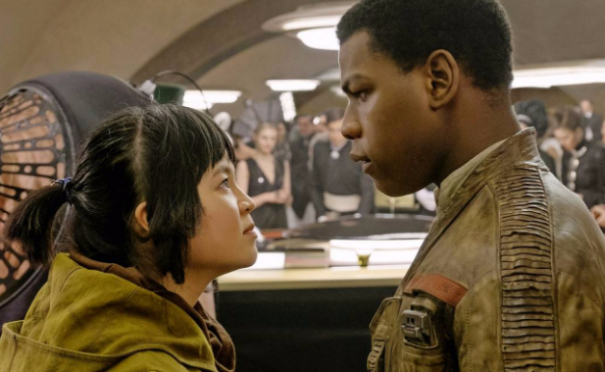 The new Star Wars movie features an Asian woman hooking up with a nigger. It turns out that the Chinese audience is not keen on their women fucking niggers.
So the new Star Wars film was released in China and box office receipts have been extremely poor.
"Star Wars: The Last Jedi" looks on course for a slow and disappointing opening in China, the last major territory to release the picture.

Despite a massive screen count and the full force of Disney's marketing power, early screenings Friday put "Jedi" in only second place. The top spot was retained by Chinese comedy "The Ex-File: The Return of the Exes" in its second week.

Data from China Box Office showed "Jedi" earning $7 million (RMB50.1 million) by 7 p.m. local time. Including midnight screenings and previews, its running total was $8.28 million. That gave it a market share of 27%.

With a marginally smaller screen count, "The Ex-File" enjoyed $15.7 million (RMB102 million) and a 58% share of the box office by 7 p.m. Its cumulative score after eight days stands at $129 million (RMB838 million).
While the mainstream press is not going to admit this, the main reason this film failed in China is because the Chinese don't want to see an Asian woman fucking a nigger.
One of the main subplots in the movie features this female Asian character involving herself in a romance with the nigger Stormtrooper character Finn. Who the hell wants to see such things? Certainly not the Chinese.
Besides that, the film itself is legitimately horrible. Genuine Star Wars fans have hated it. PewDiePie's review sums it up pretty nicely.
The Jews at Disney seem determined to cram as much social engineering insanity into these new Star Wars films as they can. They don't seem to care that they are ruining the franchise. They also don't seem to care much about box office receipts either otherwise they would not have put this ridiculous Asian-nigger race mixing garbage into the film. Anybody with basic common sense could see that this would not sell to the Chinese market.
All of the Star Wars movies put out by Disney have been legitimately horrible. They've somehow made the prequel episodes look like works of genius in comparison.
That's OK though, I hope Disney continues to make more shitty Star Wars films. These horrible movies are only going to anger Star Wars fans and when they find out that Jews were responsible for wrecking Star Wars they will become raging Jew haters demanding diesel engine fume Holocausts.