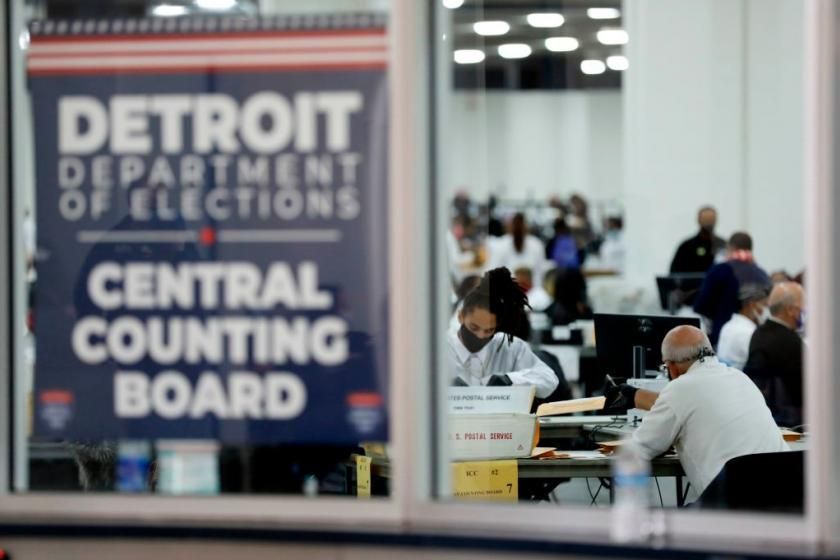 Wayne County election officials refused to certify the vote due to the massive amounts of fraud that took place in Detroit and other places. As a result of this, they were threatened and harassed. Ultimately, they were forced to certify the vote but refused to sign the documents certifying it.
We now know that the two Wayne County, MI GOP canvassing board members only certified the vote after being threatened by violent leftist radicals.

DOJ/AG Barr must immediately guarantee federal LE protection to any and every election official being threatened.@realDonaldTrump

— John Cardillo (@johncardillo) November 18, 2020
The two election officials who refused to certify the vote have been labeled "racists" by the enemy media.
Wayne County's would-be election thieves humiliate themselves, expose overt racism of GOP https://t.co/Zeehu7fzMe

— Detroit Free Press (@freep) November 18, 2020
What does race have to do with voter fraud? This is just desperation by our enemies. They are the one's who are humiliating themselves by claiming concerns about obvious voter fraud is "racist" or whatever.
President Donald J. Trump also commented on the situation, describing how there were more votes than people!
Wrong! At first they voted against because there were far more VOTES than PEOPLE (Sad!). Then they were threatened, screamed at and viciously harassed, and were FORCED to change their vote, but then REFUSED, as American patriots, to sign the documents. 71% MESS. Don't Harass! https://t.co/n5frpesHfD

— Donald J. Trump (@realDonaldTrump) November 18, 2020
"The numbers have not improved, it is still 71% out of balance", stated Wayne County, Michigan, Canvassers. "There is widespread irregularities in poll numbers." There are "more votes than people". The two harassed patriot Canvassers refuse to sign the papers!

— Donald J. Trump (@realDonaldTrump) November 18, 2020
The Great State of Michigan, with votes being far greater than the number of people who voted, cannot certify the election. The Democrats cheated big time, and got caught. A Republican WIN!

— Donald J. Trump (@realDonaldTrump) November 18, 2020
This just gets crazier and crazier. They are threatening and harassing election officials now who refuse to go along with this scam.
I would not expect Attorney General Bill Barr to do anything about it though. That fat fuck hasn't done shit about anything and he is part of the conspiracy to remove Trump from office.