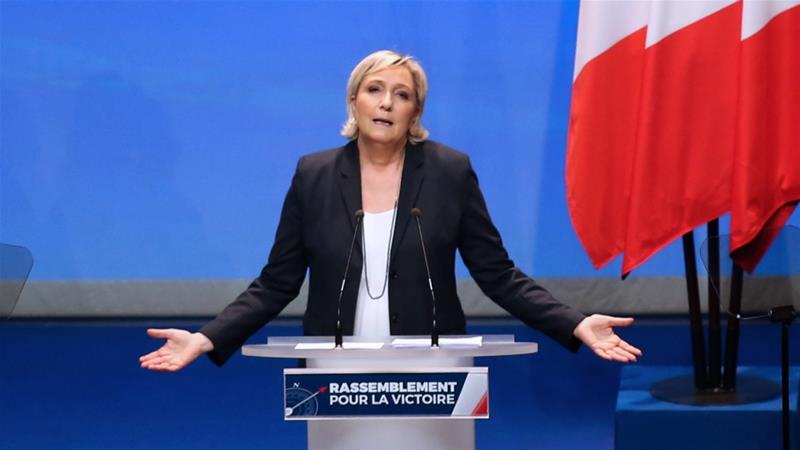 Marine Le Pen wants to rebrand the National Front party to the National Rally party. All because the National Front brand is associated with anti-Semitism and racism.
French far-right leader Marine Le Pen proposed her National Front party be renamed the "National Rally" on Sunday, in a bid to shed a brand associated by many voters with racism and anti-Semitism and facilitate alliances with other parties.

Speaking at a party congress meant to help her reassert her authority following her defeat to President Emmanuel Macron last May, Le Pen said the party's priority should be to gain power, which could only be achieved through a coalition with allies.

"Our goal is clear: power," Le Pen told party cardholders gathered in the northern city of Lille, who cheered her speech denouncing immigration, globalization and a federal Europe.

"We were originally a protest party," she said. "There should be no doubt now that we can be a ruling party."

The idea of changing the party's name was only approved by a narrow majority of National Front members, with 52 percent backing it on Saturday, according to figures provided by the party. They will get to vote again on the new name by post.

Jean-Marie Le Pen, the 89-year old far-right veteran who founded the party in 1972, called the name change political "suicide" in an interview with Reuters last month.

"The National Front name carries an epic and glorious history, which no-one should deny," Marine Le Pen said. "But you know it is for many French people a psychological obstacle."
This is so dumb. Does she not understand the direction the political winds are blowing? Italy just voted for all sorts of nationalist and populist parties. The native people of Europe are growing sick of unchecked migration from the third world that has been pushed by Jews.
If anything, Le Pen should be moving further to the right. Instead, she's moving towards the center and this rebranding of the party is going to be demoralizing to her base. She and her party members are going to get called racists and anti-Semites no matter what. It doesn't matter if they moderate their message, change their name or change slogans.
And for some reason Steve Bannon was recently visiting with Le Pen. After all the chicanery he was involved in, it is very weird to see this. I can't say that this is a positive development considering his statements in that Michael Wolff book which was put out to attack Donald Trump. He literally said that he believed there was validity to the Russia kook nonsense which was used to fuel more attacks against Trump. He lost all the political capital he had after that.
But who knows, maybe Bannon will redeem himself with what he's doing over in Europe. Only time will tell.