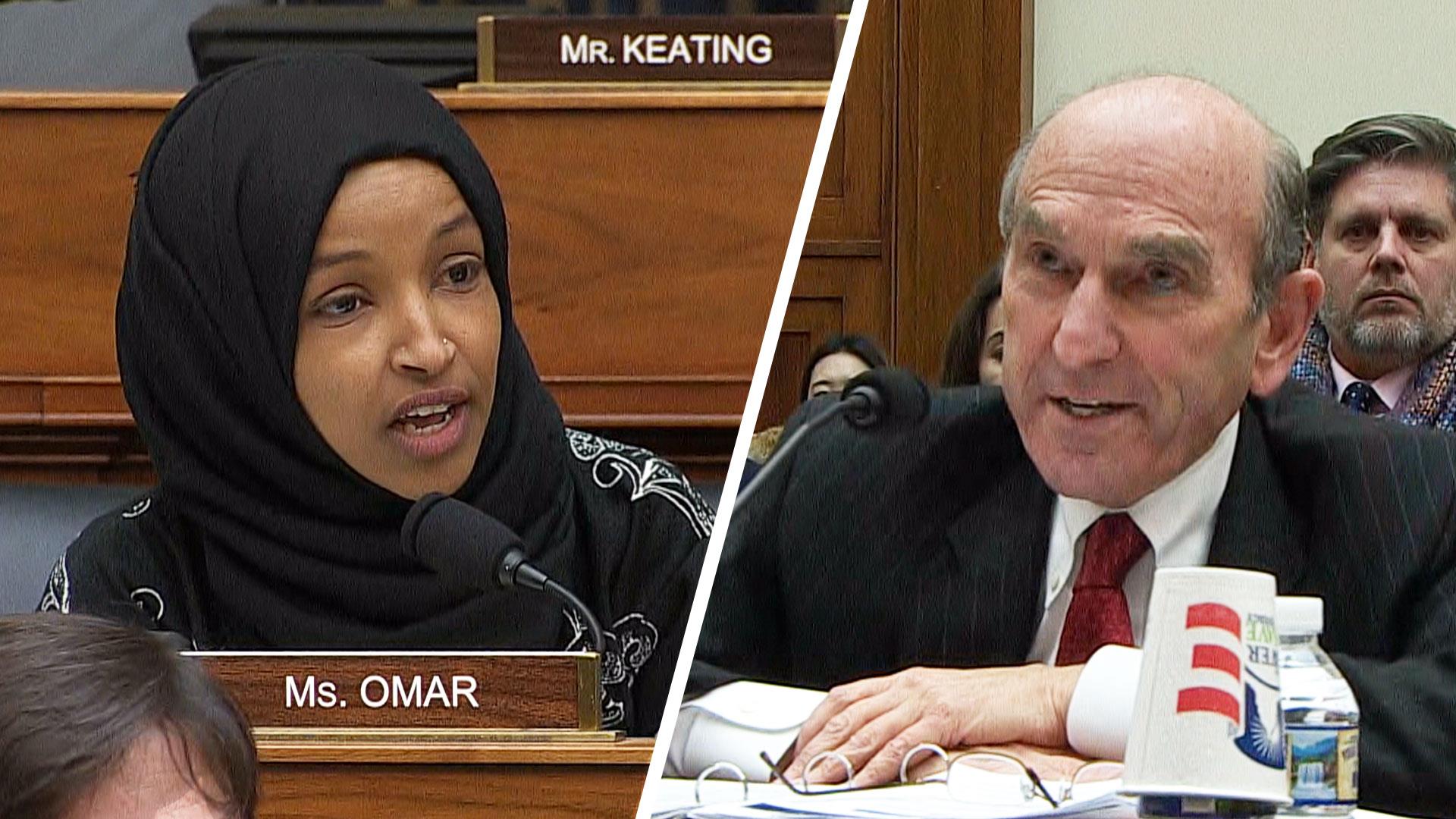 American politics is so kiked right now its unbelievable. Ilhan Omar is a Somali Moslem who is only in America because of Jewish immigration policies. And now that Omar is in Congress she is causing some real headaches for Jews.
On top of exposing AIPAC, she had the opportunity to question the evil neocon kike Elliott Abrams. As you may or may not know, Abrams was assigned by Mike Pompeo to be a special envoy to the hoax government of Venezuela. She questioned him about his role in the Iran-Contra affair and all sorts of fucked up shit he was involved in back during the 1980s. She pissed him off to the point where he refused to answer her questions.
Rep. Ilhan Omar (D-Minn.) engaged in a testy back and forth on Wednesday with special envoy to Venezuela Elliott Abrams, accusing the diplomat of being a liar and pressing him on his involvement in the Iran-Contra affair and killings in Central America during the Reagan administration.

"I don't understand why members of this committee or the American people should find any testimony that you give today to be truthful," she said in her initial comments to Abrams, who pleaded guilty to withholding evidence from Congress in the Iran-Contra affair of the 1980s.

Abrams tried to interject, but Omar said she was not asking a question.

"It was an attack," Abrams responded.

Omar pressed Abrams repeatedly on U.S. involvement in Nicaragua and El Salvador during the Reagan administration, when the U.S. backed the Salvadoran military and Nicaraguan insurgents. Abrams served at the time as assistant secretary of State.

Omar specifically questioned Abrams about his past comments on the El Mozote massacre, where the Salvadoran military killed hundreds of civilians.

"You later said that the U.S. policy in El Salvador was a fabulous achievement. Do you still think so?" Omar asked.

Abrams noted that El Salvador has been a democracy for decades since the Reagan administration, calling it a "fabulous achievement."

"Do you think that massacre was a fabulous achievement?" Omar asked.

"That is a ridiculous question," Abrams replied sharply. "I am not going to respond to that kind of personal attack, which is not a question."
It was funny to see the frustration on this kike's face being forced to deal with this type of questioning from a Somali Moslem who is only here because of kike immigration policies. He did not seem amused.
But what's discouraging about all this is that the one member of Congress who seems willing to take on the kike establishment is a literal Somali Moslem. The fact that there are no White members of Congress taking on the kikes is a truly insane thing.