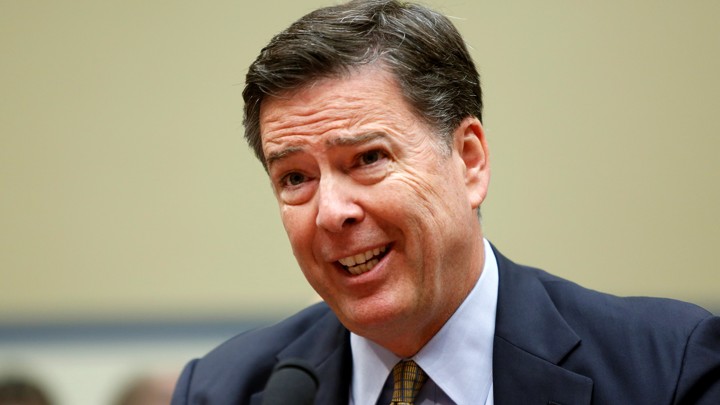 The lying shill James Comey is claiming that former Overstock CEO Patrick Bryne is lying about the FBI directing him to engage in a romantic relationship with supposed Russian agent Maria Butina.
Former FBI Director James Comey denied claims made by Patrick Byrne, the former CEO of Overstock, about the investigation into Russian interference in the 2016 election.

Byrne has claimed to multiple news outlets, including the Washington Examiner, that the FBI directed him to rekindle a romantic relationship with Maria Butina, the Russian gun rights activist who admitted in December to conspiring with a senior Russian official to infiltrate conservative American political circles.

The orders came from then-FBI agent Peter Strzok and top officials in the Obama administration, including Comey, Byrne has alleged without providing evidence.

Comey called the allegations "ridiculous." "The FBI doesn't work that way," Comey told CNN on Thursday.
The FBI doesn't work that way he says. Well James, the FBI did a bunch of shady things under your watch that weren't by the book so nothing you say has any credibility. Take for instance the investigation into Hillary Clinton's emails which was totally rigged. Or how about the illegal spying on Donald Trump's presidential campaign which was justified based on the fraudulent #pissgate dossier?
Of course, Byrne's story in of itself is very bizarre and came completely out of nowhere. The fact that he was given a massive amount of airtime on both Fox News and CNN raises some questions as well.
Quite frankly, I don't trust either Comey or Byrne and I'm not going to pretend I know what's going on with any of this. All I'll say is that Byrne's allegations are strange and could be an attempt to misdirect the public. It's just laughable that the media is trotting out a discredited liar like Comey to refute what Byrne is saying.