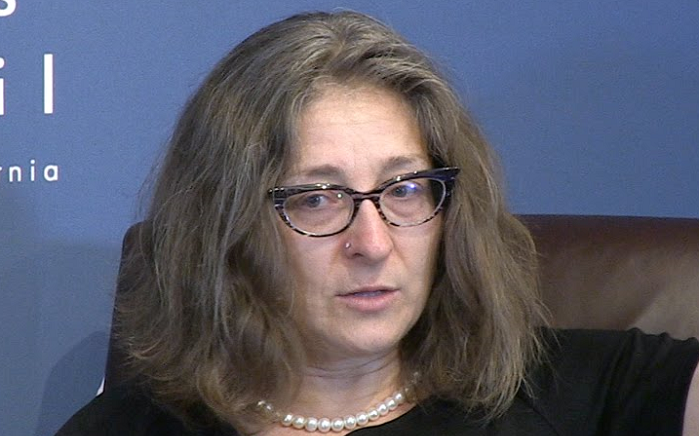 Jews are an evil race. Think I joke? Than explain why a Jewish professor at Georgetown named Christine Fair was posting tweets saying that White men deserve to have their corpses castrated and fed to pigs.
RT:
A controversial professor at Washington D.C.'s Georgetown University has tweeted that "entitled white men" deserve to have their corpses castrated and fed to pigs. The university doesn't seem to think there's a problem.

Professor C. Christine Fair tweeted a link to a video of Republican Senator Lindsey Graham speaking in support of Supreme Court nominee Brett Kavanaugh who has been accused of a sexual assault which allegedly took place in 1982 while he was in high school.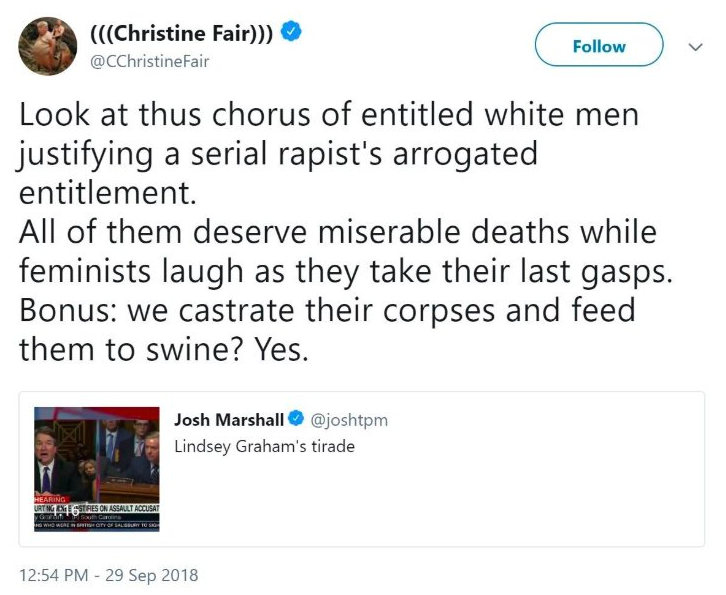 This bitch is a genuine nutcase. She's the same cunt who confronted Richard Spencer at a gym and got his gym membership revoked a while back. If there's any good news it looks as if Twitter banned her which is a bit of a shock. Generally they don't ban people if they make hateful statements directed at Whites. But her statements were so over the top it looks as if they were forced to take action.
Some are openly wondering how such a deranged individual could be teaching courses at such a prestigious school like Georgetown.
Surprising (and encouraging) to see that Twitter suspended lunatic Christine Fair's account, but I want to know how @Georgetown justifies employing a scholar who openly advocates for the murder of her political opponents and for the mutilation of their corpses.

— Rod Dreher (@roddreher) October 2, 2018
@Georgetown does Christine Fair represent the quality of staff the you employee to educate? She needs to be terminated.

— Gary Apple (@usmchky) October 2, 2018
And I agree, the bitch should be fired for spreading hate filled madness and being an overall insane cunt. Of course I'm not holding my breath that Georgetown will take any action. Hating White people has become an institutionalized thing within academia.
But man, if there's any Jew who belongs in a shower room gas chamber it would be her. If you have any questions as to why Jews have been a hated race for centuries. All you have to do is take a look at the antics of this single deranged Jewish skank.