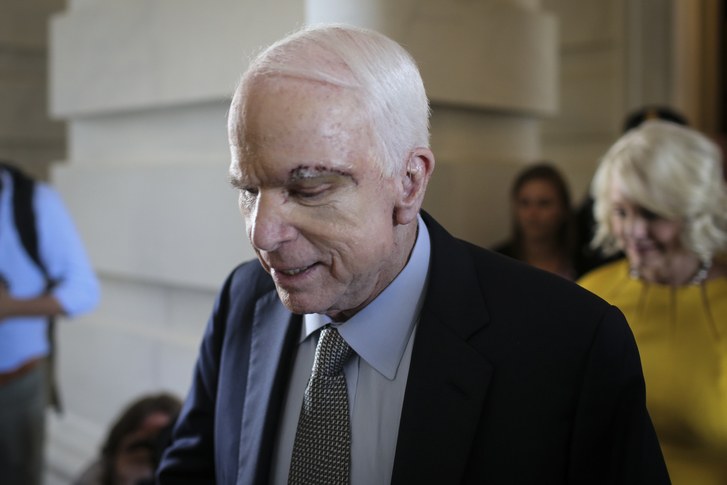 How the hell is John McCain still alive. Can't he just die?
John McCain the evil bastard and traitor to America has been hospitalized at Walter Reed Medical Center due to side effects from his cancer therapy. I personally hope this piece of shit dies sooner rather than later. I wish this mostly because I want to laugh at his death.
Sen. John McCain has been hospitalized at Walter Reed Medical Center where he's being treated for "normal side effects of his ongoing cancer therapy," according to a statement Wednesday from his office.

McCain, who missed votes on Monday and Tuesday, will return to work in the U.S. Senate "as soon as possible," the statement said.

His hospitalization comes amid speculation about his future, and as the House of Representatives and Senate attempt to hold final votes next week on a $1.5 trillion tax cut bill. The GOP is trying to maintain a fragile coalition, especially in the Senate, that could give President Donald Trump his first significant legislative achievement.

It was not immediately clear how long McCain would be hospitalized.
Seriously, why can't this Zionist asshole just die? He spent his entire political career doing everything in his power to destroy the country. He voted in favor of every war to benefit Israel while doing nothing to prevent America getting flooded with third world monkeys. Most recently he sabotaged the vote to abolish Obamacare.
I'll be greatly displeased if I wake up tomorrow morning and find out that he is still alive.