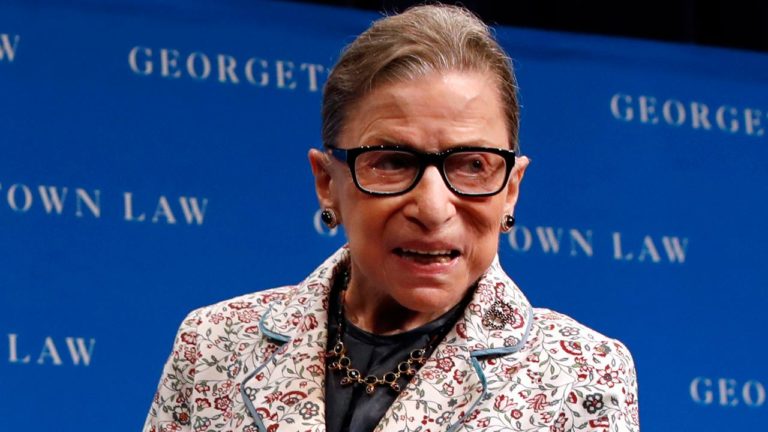 It is hard to see a situation where the Jewish Supreme Court Justice Ruth Bader Ginsburg will be around much longer. She just had lung cancer surgery.
CNBC:
Supreme Court Justice Ruth Bader Ginsburg, 85, underwent surgery Friday to remove two malignant nodules from her left lung, the Supreme Court said.

It said she was "resting comfortably" after the surgery at Memorial Sloan Kettering Cancer Center in New York, and there was no evidence of any remaining disease.

"Currently, no further treatment is planned," the court said in a statement.

Ginsburg, the eldest member of the court and the senior justice of its liberal wing, underwent a pulmonary lobectomy. Two nodules in the lower lobe of her left lung were discovered incidentally during tests she received while being treated for rib fractures sustained in a fall last month. Both nodules were found to be malignant during an initial evaluation.

Sloan Kettering on its website describes a lobectomy as the most common operation for non-small cell lung cancer. It is the best treatment for "isolated lung cancer in an otherwise healthy patient," according to the hospital.
The shitlibs are in panic over Ginsburg's health. If she dies or can no longer perform her duties, President Trump will be able to replace her with a right-leaning justice.
There's also Stephen Breyer another leftist-Jew on the Supreme Court who is 80-years-old. If Trump wins a second term, it is likely that Trump will be able to nominate a replacement for him as well.
There's a good chance Trump can shift the court to the right for many years to come. And that's regardless of the recent actions of Chief Justice John Roberts who has started to side with the shitlibs on various rulings as of late.