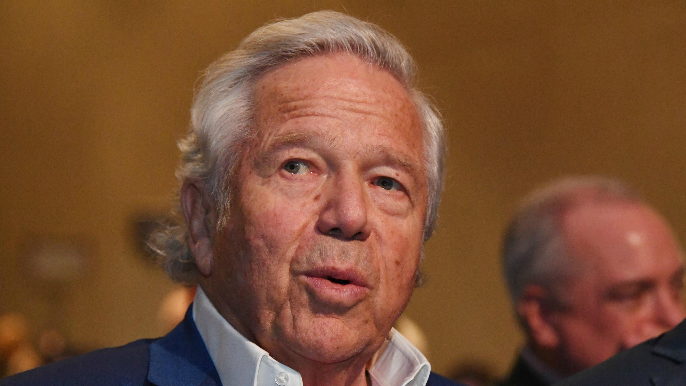 The Jew owner of the New England Patriots Robert Kraft was just caught soliciting rub and tugs at some type of gook massage parlor in Florida. I doubt your average person gives a fuck if some old Jew paid to have some gook woman jerk him off, but considering we live in circus world, this is currently one of the biggest news stories in the country.
ESPN:
New England Patriots owner Robert Kraft is facing charges of misdemeanor solicitation of prostitution after he was twice videotaped paying for a sex act at an illicit massage parlor, police in Florida said Friday.

The 77-year-old Kraft was one of 25 people involved in the alleged solicitation at the Orchids of Asia Day Spa in Jupiter, Florida.

Michael Edmondson, spokesman for the state attorney's office in Palm Beach County, told ESPN that the nature of any charges that the 25 people face will not be released until next week.

Kraft has denied wrongdoing.

The potential charges come amid a widespread crackdown on sex trafficking in Florida from Palm Beach to Orlando. Hundreds of arrest warrants have been issued in recent days as result of a six-month investigation, and more are expected. Ten spas have been closed, and several people charged with sex trafficking have been taken into custody.

Police said they secretly planted undercover cameras in targeted massage parlors and recorded the interactions between men and the female employees.
So the police launched an elaborate six month sting operation to ensure gook women weren't jerking men off in massage parlors. Is this really the best use of their time?
Prostitution should not be illegal. If a woman wants to sell herself, she should be allowed to do so. Feminism has been the primary force behind making prostitution illegal. They conned men into thinking that they need to get married in order to access sex. But this is a relatively new phenomenon that only came into being starting in the early part of the 20th century. Prior to that, prostitution was a regular thing that happened throughout America. That's because many women weren't considered marriage material and resorted to whoring themselves for money.
But point blank, this story is a joke. If a man wants to pay some gook woman to jerk him off he should be allowed to pay for said services.