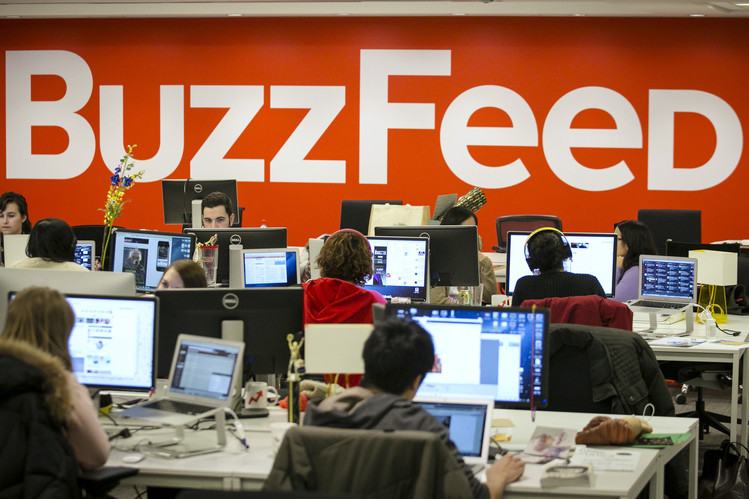 The Jewish fake news operation of Buzzfeed is getting ready to eliminate a substantial portion of their staff. Apparently kike produced fake news and stupid click bait crap is not proving to be a lucrative enterprise.
BuzzFeed is preparing lay off 15 percent of its workforce, according to an internal email obtained by The Hill.

In an email sent to BuzzFeed staff on Wednesday, CEO Jonah Peretti said the media company would be doing layoffs "next week" across the company.

"I'm writing with sad news: we are doing layoffs at BuzzFeed next week. We will be making a 15% overall reduction in headcount across the company," Peretti wrote. "I'm sending this tonight because I wanted you to hear it from me directly instead of from the press."

Peretti wrote in the internal memo that BuzzFeed needs to make changes to "grow sustainably for years to come."

"We've developed a good understanding of where we can consolidate our teams, focus in on the content that is working, and achieve the right cost structure to support our multi-revenue model," he wrote. "We are confident the changes we are making will put us on a firm foundation and allow us to invest and grow sustainably for years to come."

Peretti wrote that the layoffs were intended to cut costs and "improve our operating model so we can thrive and control our own destiny, without ever needing to raise funds again."

The CEO added that the specifics of the changes will be made clearer on Monday.

BuzzFeed currently employs just under 1,500 employees, meaning a little more than 200 employees will be leaving.
I honestly did not know that Buzzfeed employed that many people though. That's completely fucking insane. The CEO Jonah Peretti is a kike and he doesn't seem to be very good at business management. I honestly have no idea why a site like Buzzfeed would need that many people to function. Clearly, Peretti has no fucking idea what he is doing.
And as you probably already know, Buzzfeed was the source of that false report that claimed the Jew Michael Cohen lied to Congress at the direction of President Trump. They also published the ridiculous #pissgate dossier which was proven false.
Jews really aren't very good at business. They just have unlimited numbers of shekels to throw around from sweetheart loans they get from Jewish banks. When you have access to this type of financing, you can get away with making many mistakes.
Hopefully Buzzfeed will go under but they'll probably do a merger with another Jew fake news site or the Jews will just dump more shekels into it. They seem to think that this is a very valuable disinformation operation for their filthy race.