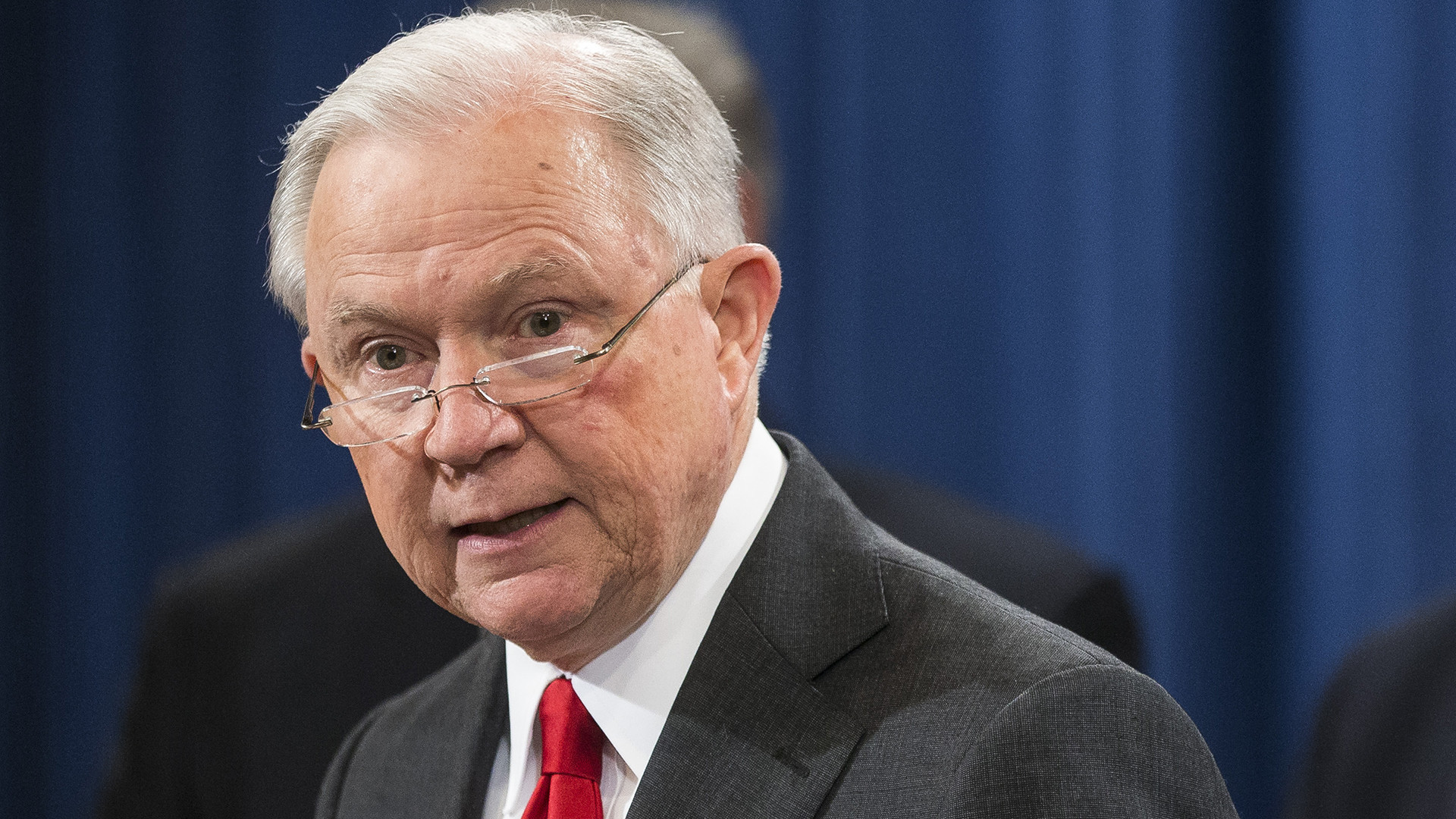 Donald Trump took to Twitter a short time ago to announce that Jeff Sessions has been fired as Attorney General.
We are pleased to announce that Matthew G. Whitaker, Chief of Staff to Attorney General Jeff Sessions at the Department of Justice, will become our new Acting Attorney General of the United States. He will serve our Country well….

— Donald J. Trump (@realDonaldTrump) November 7, 2018
….We thank Attorney General Jeff Sessions for his service, and wish him well! A permanent replacement will be nominated at a later date.

— Donald J. Trump (@realDonaldTrump) November 7, 2018
Here's the resignation letter from Sessions. He resigned per the request of Trump.
NEW: Jeff Sessions is out per @ABC. Here's the resignation letter. pic.twitter.com/pMijY8Ojv7

— Matthew Smith (@MattSmithWXYZ) November 7, 2018
It was widely expected that Trump would be firing Sessions as Attorney General after the midterms. Trump has been rightly angry at Sessions for recusing himself from overseeing matters related to the Russia collusion hoax and for failing to properly take control over the Department of Justice. Obviously, Sessions has been a very weak and terrible Attorney General.
Matthew Whitaker who has been Chief of Staff to Jeff Sessions is taking his place as Acting Attorney General. He will now be in charge over overseeing the Robert Mueller Russia hoax probe. The devious Jew Rod Rosenstein is no longer overseeing it according to various media reports that are circulating.
Deputy Attorney General Rod Rosenstein is no longer overseeing special counsel Robert Mueller's probe into Russian election meddling — following the resignation of Jeff Sessions.

The investigation was being managed by Rosenstein because Sessions had recused himself.

With Sessions gone, Rosenstein will no longer oversee the probe — instead, it'll be run by acting Attorney General Matthew Whitaker, NBC News reported.
Whitaker has previously written opinion pieces expressing his dissatisfaction with the Russia hoax probe, accurately calling it a political fishing expedition.
Matthew Whitaker, named acting attorney general in the wake of Jeff Sessions's abrupt firing Wednesday, in 2017 called for special counsel Robert Mueller to "limit the scope of his investigation" into Russian meddling in the 2016 presidential election.

"It does not take a lawyer or even a former federal prosecutor like myself to conclude that investigating Donald Trump's finances or his family's finances falls completely outside the realm of his 2016 campaign and allegations that the campaign coordinated with the Russian government or anyone else," Whitaker, 49, wrote in an opinion piece for CNN.

"It is time for [Deputy AG Rod] Rosenstein, who is the acting attorney general for the purposes of this investigation to order Mueller to limit the scope of his investigation to the four corners of the order appointing him special counsel," he wrote. "If he doesn't, then Mueller's investigation will eventually start to look like a political fishing expedition."
The Jews and their allies are not happy with the firing. They're rambling on about a Constitutional crisis and other nonsense, even though you could easily argue that Mueller's appointment has been unconstitutional and unwarranted. It's been an investigation in search of a crime from the start.
"Oh," Senate Minority Leader Chuck Schumer says in first hearing about the firing of Attorney General Jeff Sessions. "Protecting Mueller and his investigation is paramount. It would create a constitutional crisis" pic.twitter.com/7L8acOfU0B

— CNN Politics (@CNNPolitics) November 7, 2018
Clearly, the President has something to hide. https://t.co/m1sQV9oBwl

— Chuck Schumer (@SenSchumer) November 7, 2018
Americans must have answers immediately as to the reasoning behind @realDonaldTrump removing Jeff Sessions from @TheJusticeDept. Why is the President making this change and who has authority over Special Counsel Mueller's investigation? We will be holding people accountable. https://t.co/weykMuiCxm

— (((Rep. Nadler))) (@RepJerryNadler) November 7, 2018
Trump forcing out U.S. Attorney General Jeff Sessions puts us in a constitutional crisis that may shut out the truth, stop American justice, and threaten our entire system of law. Whitaker must recuse himself or give full independence to Robert Mueller.

— Tom Steyer (@TomSteyer) November 7, 2018
No, I'm not worried about @jeffsessions at all.

There is nothing Trump can do to stop what's coming for him.

Nothing.

If a new AG would agree to obstruct justice by firing Mueller, he would not have fired the OFC.

This move reeks of Trump's terror. pic.twitter.com/H6VGFoA40M

— Louise Mensch (@LouiseMensch) November 7, 2018
Get ready to fight for the Mueller probe. Thank goodness we won the House. Pelosi on watch now! https://t.co/Veyx2w1BLG

— Amy Siskind (@Amy_Siskind) November 7, 2018
The guy @realDonaldTrump is replacing Jeff Sessions with LITERALLY WROTE AN OP-ED explaining how he'd end the Mueller investigation https://t.co/ywwr8xl4Wu

— David Pakman (@dpakman) November 7, 2018
It looks like this is the start of Trump cleaning out the Department of Justice. That Jew Rosenstein also needs to go, but we'll see how this develops. He has much more flexibility with a larger Republican majority incoming into the Senate. He can basically appoint anybody he wants to the top cabinet positions now.