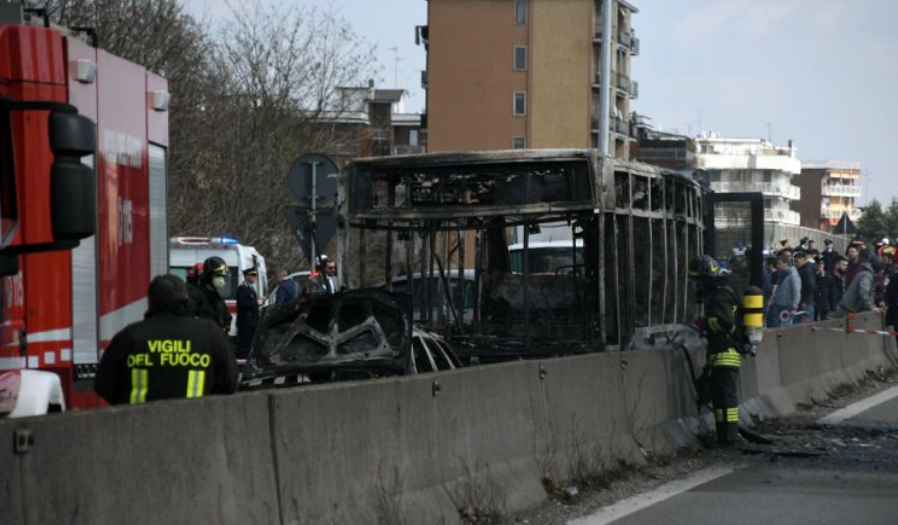 An Italian of nigger descent just abducted a group of children and tried to burn them alive in a bus.
AP:
A bus driver in northern Italy abducted 51 children and their chaperones Wednesday, threatening them over a 40-minute ordeal before setting the vehicle on fire when he was stopped by a Carabinieri blockade.

Officers broke glass windows in the back of the bus and got all the passengers to safety without serious injury before the flames destroyed the vehicle, authorities said.

As he was apprehended, the driver said he was protesting migrant deaths in the Mediterranean, Commander Luca De Marchis told Sky TG24.

De Marchis told Sky TG24 that the driver, an Italian citizen of Senegalese origin in his 40s, threatened the passengers, telling them that "no one would survive today" as he commandeered the bus carrying two middle-school classes to a nearby gym in Cremona province, some 40 kilometers (25 miles) from Milan.

ANSA quoted one of the students as saying the driver took all their phones and ordered the chaperones to bind the students' hands with cable ties, threatening to spill gas and set the bus ablaze. ANSA said the chaperones only loosely bound several students' hands, not everyone's.
This new Italian was angry that Italy is no longer accepting unlimited numbers of niggers into the country so he snapped. He proved that he has nothing in common with the people of Italy and shouldn't be there.
Hopefully this incident gives the Italian government justification to start rounding up niggers and sending them to concentration camps. I would personally sentence this nigger to exile in the Mediterranean Sea without a life jacket. If he likes the dead nigger invaders so much, let him be with them.