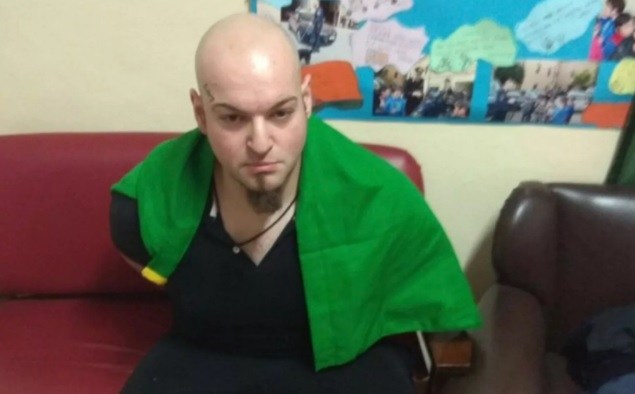 The other day a young Italian girl was dismembered and stuffed into suitcases by a Nigerian. An Italian man decided to retaliate against the nigger plague by going on a shooting rampage against the African invaders.
An Italian man opened fire on African migrants in the central city of Macerata on Saturday, injuring six people before he was captured, in what police said was a racially motivated attack.

The shootings happened just days after a Nigerian migrant was arrested in connection with the death of an 18-year-old Italian woman, whose dismembered body was discovered stuffed into two suitcases near Macerata.

Police named the suspected shooter as Luca Traini, 28, and said he had an Italian flag draped over his shoulders when he was seized in the street by armed police. Onlookers said he made a fascist salute before being handcuffed.

"He drove around in his car and when he saw any black people he shot them," Marcello Mancini, a Macerata resident, told Reuters television. Police said one of the six victims was seriously hurt and needed surgery, but gave no further details.

Traini also fired shots at the offices of the ruling center-left Democratic Party (PD) in Macerata, but did not injure anyone there. The PD said he had stood as a candidate for the rightist Northern League at local elections last year but had not received any votes.

The League backs fiercely anti-immigrant policies and is part of ex-prime Silvio Berlusconi's center-right alliance that is leading in the polls ahead of a March 4 national election.

League leader Matteo Salvini distanced himself from the shooting, but blamed mass immigration for the tensions.
None of this is surprising. The most basic duty of a government is to keep its people safe and they have failed to do that by allowing an endless sea of niggers to infest their country.
It is totally understandable to see a young man decide to take matters into their own hands considering the state has failed to do its duty. This type of thing is only going to happen more and more as our countries get infested with an increasing amount of third world filth.
While I certainly understand why this young man did what he did, he could spend the rest of his life in jail.
At the moment, our energy is best served trying to reach a political solution to this insanity. This can be done by awakening the people. We have made great strides in just a few short years.
Going on a shooting rampage and ending up in jail means you can no longer be an active asset to our cause. We aren't yet in a full blown race war situation. Just remember that before you decide to do something rash.
Let's stay the course. We will win this. I have no doubt in my mind.