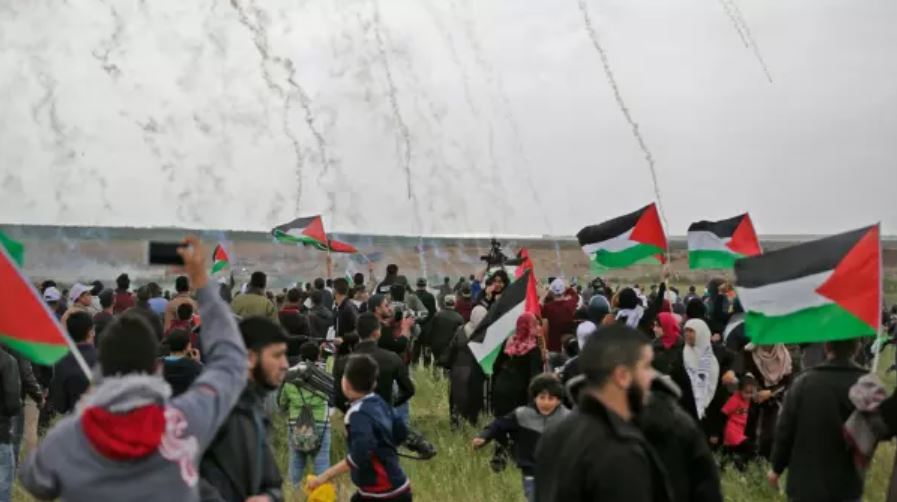 Israel has once again resorted to using live ammunition on Palestinian migrants and asylum seekers.
At least two teenagers have been killed in clashes with Israeli military as tens of thousands of Palestinians gathered at the Israeli border to mark a year of the protest movement.

The latest demonstrations honored the "Great March of Return" that started on March 30, 2018. Nearly 40,000 Palestinians marched to the border in heavy rain to mark the anniversary. Protesters want an end to a years-long blockade of the Gaza Strip and for refugees in Gaza to be allowed to return to ancestral homes in Israel.

The Israel Defense Forces (IDF) put the number of protesters at around 40,000 and said explosive devices, stones and burnt tires were thrown over a wall in the direction of Israeli Military, according to the BBC.

The IDF said they responded with "riot dispersal means" including live ammunition.

The teens, both 17, were killed and dozens of protesters were wounded, a Palestinian health official and the Daily Beast reported. They said another man was shot dead by Israeli forces overnight near the border fence.

From March to December last year, 189 Palestinians and one Israeli have died during the protests, including 35 children, three paramedics and two journalists, according to the UN Human Rights Council. During that period, 6,106 Palestinians were injured.
These Jews are literally killing children, medical personnel and journalists. It sounds like this is the justification the United States needs to form a coalition force with Russia to overthrow the terrorist regime of Israel in the name of human rights and democracy.
All these Palestinian migrants are trying to do is seek a better life in Israel and these Jews are shooting them dead. Something needs to be done about this.